Customer Portal
More than just e-commerce: the most valuable bridge to your customers
The PIRO online Customer Portal is a bridge to your back-office jewelry software, allowing your customers to place custom orders online and follow the status and progress of those orders in real time from anywhere.
Demo customer portal (soon)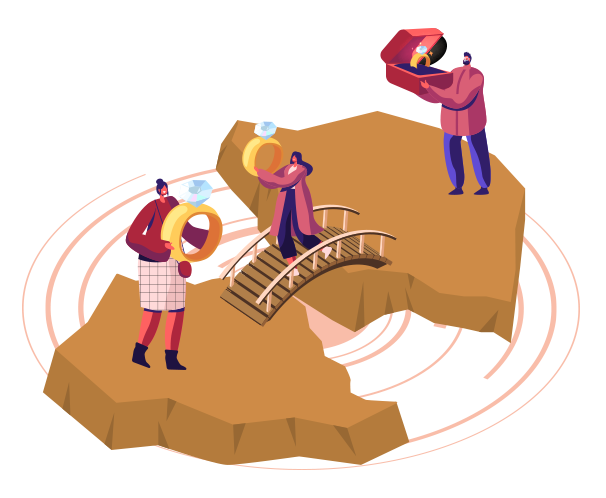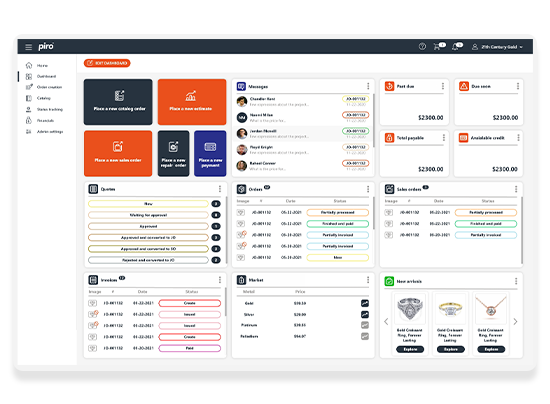 Self-service access around the clock
Through the 'always on' online portal, your clients can access a whole range of functions at any time, from anywhere. As a self-service platform, the Customer Portal integrates all web-based applications and customer interaction processes into one single, easy-to-use interface, from product information to after-sales requests.
Your customers can use it to place wholesale or custom orders, request services like resizing or repair, and request and approve price quotes. They can also view all their order, invoice, and payment-related histories, and pay open invoices – all with a few clicks, from their phones or computers.
B2B commerce
Organizations selling to a business clients know that their customers are part of a generation of 'always connected' consumers and that they expect the smooth buying experience they are getting from big, well-established consumer brands – and even more, they expect personalized service.
Our Customer Portal offers a convenient way of doing business so you can retain your clients for the long term. Here are the services you can offer them:
Placing custom orders by uploading design files and getting automated price quotes based on the uploaded design files
Ordering from your catalog or, if you are a contract manufacturer, their own catalogs and styles. They can also customize styles by selecting metals, diamonds, sizes, and other options and submit orders or price quotes online, all without any intervention from you
Category-based pricing: one of the unique and exceptional features we offer

...


is the customer category-based pricing – meaning that the Customer Portal can show the catalog prices with different markups or discounts depending on the customer's pricing category. More than that, individual markups/discounts can be set up as well, even for specific styles or components (like the metal or the diamond components of a ring).
Price quotes requested by your clients will be automatically transferred to the backoffice system where they can be reviewed and priced; or PIRO can generate prices automatically based on uploaded design files and selected services.
Your clients can add their production-related notes to the orders even while these orders are in progress
Price quotes, job orders or sales orders can be tracked by your customers in real-time. This includes status updates as well as the current production steps (like "Design", "Casting", "Polishing", etc.) and the estimated finish date for Job orders.
Customers can approve/decline price quotes – all online, without having to call or email you
Integrated shipping tracking provides automated tracking of packages en route to your customers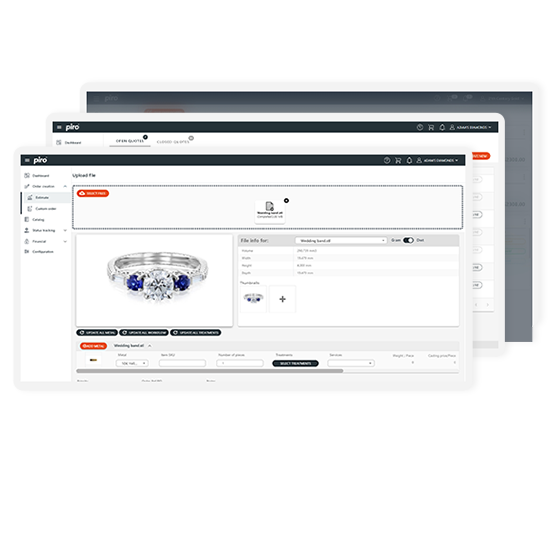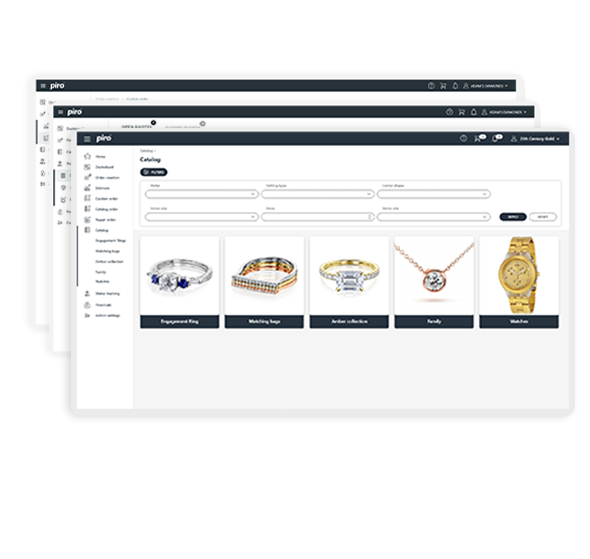 B2C commerce
Although most jewelers have recognized the need for an online sales channel, selling products directly to consumers through the web requires many online tools in order to really work. That's not easy, as most of the existing e-commerce platforms are not created for the jewelry industry and can't handle to complexities of jewelry manufacturing.
The PIRO Customer Portal offers a one-stop B2C e-commerce platform, solving the most common issues jewelers face:
Customers can access your online catalog to order from as well as create custom orders online with automated price calculations
Configuring and maintaining the styles (stock, prices, variations, and attributes) is a difficult process as constant synchronization is required between the back-office management system and the website. Our Customer Portal solves this issue transparently: the only source of information is the backend system, so any changes you do or any new style you set up there will be automatically shown on the website.
Market-based pricing is another one of the limitations of general e-commerce platforms; however, this type of pricing is quite common in the jewelry industry

...


due to the fluctuation of metal prices. Our Customer Portal supports market prices so whenever the markets change your online prices can adjust automatically.
You can have unlimited item variations configured and no need to create separate SKUs for every combination or style option like you would need to do with other e-commerce platforms.
You can limit what items are visible in your online catalog, and there is an easy way in the backend to enable or disable them, based even on inventory availability.
You can customize the catalog structure and create your own categories or collections
All important information is accessible for your clients through the Customer Portal backend, such as order and shipping information, invoices and balances, shipping information and many more
Order management
General e-commerce platforms offer just standard order management, limited to receiving an order, processing the payment, and having a few statuses for the order like "In progress", "Shipped" or "Fulfilled". But anything that happens between the order taking and fulfillment is untracked, invisible. Our Customer Portal provides you and your clients with a host of other tools that allow for a much better visibility and management of the orders.
The backend system of our Customer Portal (PIRO or PIRO Fusion) tracks all the order statuses and manufacturing steps in detail, from order entry all the way through to shipping, and even beyond, if needed. As this information is shown on the Customer Portal so that your clients can get a real-time feedback on the progress of their orders.
The Customer Portal offers various ordering options:
submitting orders or price quote requests based on images or sketches & drawings
submitting orders based on 3D files (.stl or .3dm) with automated pricing
submitting traditional catalog orders
submitting custom orders via an online jewelry configurator tool
submitting repair orders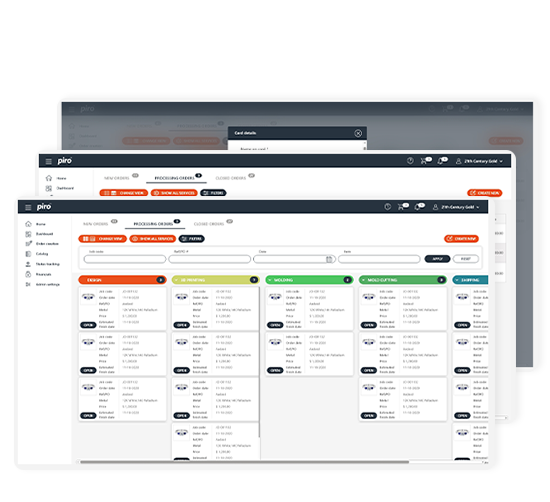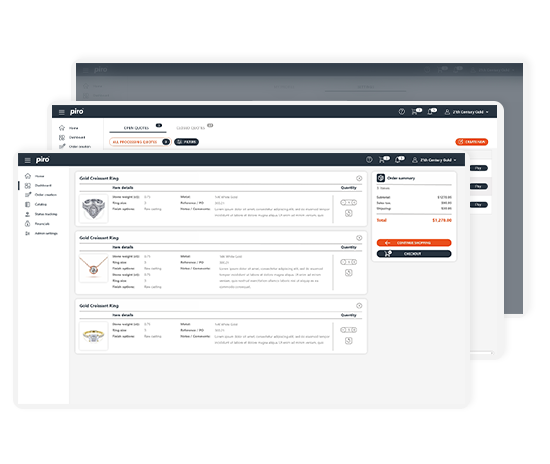 Shopping experience and customer service
The online jewelry market is getting highly competitive, and you can only stand out of the crowd if your customer's experience with your company and online presence is excellent.
Most jewelry companies that sell online spend a big part of their budget to customize and run their website to make the shopping process as smooth as possible. However, the e-commerce platforms they use were built and are optimized for stock sales or selling static items with only a few attributes - like shoes in different sizes and colors – not complex items like jewelry.
The jewelry industry works differently and needs better tools than what these general e-commerce platforms can offer. With consumers looking for more personalized jewelry and services, wholesalers and manufacturers need a different approach if they want to stay in business....
Our Customer Portal offers these tools by default, meaning that a jewelry configurator which allows personalizing the jewelry (like building engagement rings, selecting birthstones or adding engravings), can be set up without major custom development effort.
*Our built-in feedback loop allows your clients to submit and order reviews internally via the Customer Portal backend. If anything goes wrong with the order, you can rectify and fix it right away while working directly and privately with the client; while you can ask the client's permission to publish their reviews to your website.
* this feature will be added in 2022
Empowering the sales team
Although PIRO's Customer Portal could be a single touch point between you and your clientele, in many cases some clients are not ready for using a digital platform. That's one of the reasons why companies work with sales people who take the orders and submit them to the company. The other reason is that companies don't want to lose the personal touch they built with their clients. Both are very valid reasons.
Even if you have no immediate use for the Customer Portal, there's no reason to not to benefit from the features it has to offer. Many PIRO users give access to the Portal back-end to their sales people, who will then place orders on behalf of clients. For example, they can talk to the customer in person and submit the orders via the Customer Portal in real-time, using a tablet or smartphone.
As a result, sales people don't have to submit the orders with pen and paper or via email at the end of the day, as this is still just an unnecessary extra step in the process. You can facilitate the order entry with the Customer Portal, even if your clients are not tech savvy or don't want to use the Portal; you can just train your sales associates to enter their orders while talking to the client or consumer.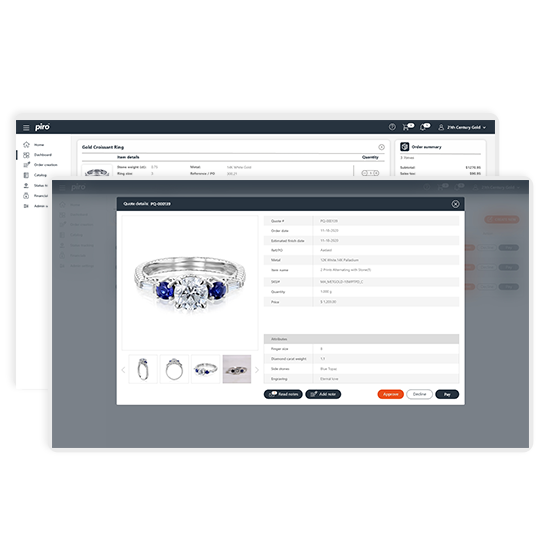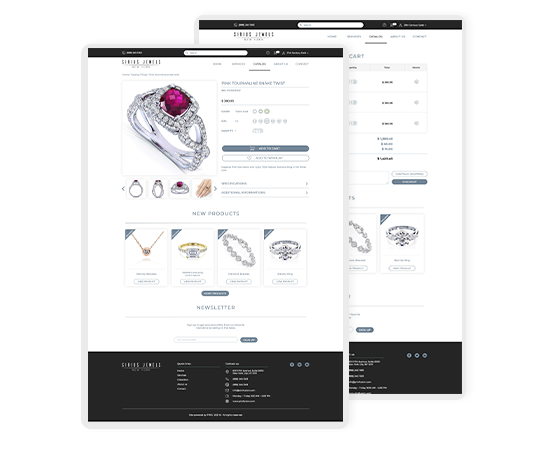 E-commerce Engine plugin - Headless Commerce
Our E-commerce Engine is a forward-looking concept. This plugin will just simply replace the product catalog section of a website built on a commercial platform like Worldpress or Joomla. This allows for seamlessly embedding your store into your existing website's content - without disturbing the other functions of your Content Management System (CMS), such as marketing tools, SEO tools, CRM, and so on. This method can increase your profits significantly on both short- and long-term:
You don't have to develop and maintain the product management part of your website separatelly as all the product-related information would come from PIRO directly (jewelry categories, item details, images, SKU numbers, variations, descriptions, prices, stock information, etc.)
You can allow your clients to use a custom jewelry configurator without any programming on your website
Shared credentials would allow your registered website users to log in with the same credentials to the PIRO Customer Portal backend to manage their orders and track statuses - no need to integrate your existing site with PIRO

...

Product pages could be separated from your website content to be used on multiple platforms at the same time. For example, you can have an internal site used by your stores and sales staff, while having a mobile app for on-the-road sales people to showcase your products - all managed from one single place, by possibly just one person.
Turnkey front-end
Building a fully functional website can take months as both the frontend design and the CMS (backend) setup requires significant planning, design, and programming. Most website development companies are focused on customizing some platform (WordPress, Shopify, Magento, etc.) as that is the quickest and easiest approach, but virtually none of them will warn the owners that the website backend for these systems are not designed for managing custom orders or to streamline the product and order management. Usually this turns into an ongoing maintenance problem that can become very costly to deal with in the long run.
In addition, the need for a central order management system that connects to the website seamlessly creates further challenges for the jewelry company – challenges that can be entirely avoided with our Customer Portal.
With the Customer Portal, we only need to desing the look and feel – we can even take your existing website's designs and pull it over the Customer Portal, thereby providing you all the features of the Portal with the design you want. To make things even easier, we offer:
Ready-to-use frontend templates optimized for jewelry, so you can get your online channel up and running (often within a month)
Our template selection will be updated continuously with new templates so companies can choose the one that's closer to their brand and business profile (retail, wholesale, manufacturing services, etc.) and then modify it as needed.
We can work with you on a fully custom frontend, following your brand requirements at the highest detail.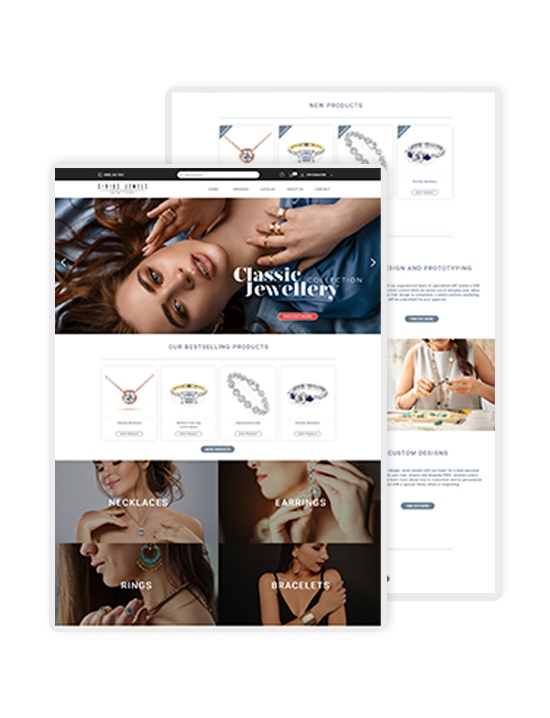 English