Jewelry wholesale business software
Wholesale jewelry software: an efficient way of managing your business
While efficiency levels up operations, professional service brings in new clients and allows you to grow as a business.

PIRO jewelry software can fully support you in achieving growth by automating processes, so that you can focus more on what you do best: selling and trading.
We know what it takes to move jewelry wholesalers to the next level
Wholesale companies are facing fierce competition. In the age of technology, other jewelry wholesalers aren't your only competition: manufacturers are opening up their online sales channels so they can directly reach out to retailers and even end customers.
You must show the competition that you are better. But how can you compete or beat them? You have better expertise, no doubt. You have the best jewelry line-up. Well... everybody communicates the same way. You are the most organized jewelry wholesaler ever who can seamlessly fulfill any order in the shortest possible time. Can you resonate with these statements?
Jewelry wholesalers do not use technology for fun or because it's cool. They use it, because it makes their business organized so they can operate a lot more efficiently. By automating certain repetitive tasks and shortening the communication routes between themselves and the retailers (or manufacturers), these companies can free up valuable time to serve their customers faster and in a more professional manner.
Growing 30% while still operating with the same number of staff? It's definitely possible, if you are backed by the latest technology and modern sales tools.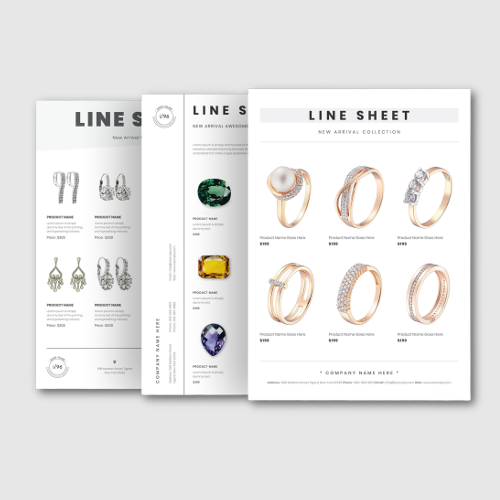 Essential PIRO Fusion tools that helped jewelry wholesalers to thrive
PIRO Fusion is equipped with all the tools to serve the jewelry wholesale industry.
Business-to-business (B2B) transactions can be tracked easily whether we're talking sales orders,
inventory, consignments (memos) or accounting.

Jewelry inventory

Diamonds and stones management

Purchasing and re-ordering

Printing jewelry tags

Sales orders

Quantity discounts

Incoming memos

Outgoing memos

Invoicing

Real-time QuickBooks integration

Accounts payable

Accounts receivable

Customer relationship management

Online Customer Portal

Contract manufacturing and workflows

Multicurrency feature

Online catalog
(public or private)

WebPOS
for salespeople

SPIFF
comission app

EDI and API support
Becoming organized will bear fruit
Many of the long-time PIRO Fusion users were able to grow their businesses and retain more customers
simply because their operations became more organized and they could work with maximum efficiency.
Seamless inventory tracking
As inventory is the central part of any jewelry wholesale business, the best results can be achieved here. PIRO can track all your items including finished jewelry, diamonds and precious stones - all with the correct attributes and pricing.
Moreover, it can automate all inventory movements including the tracking of sold and consignment items.
Digitalize and serve better
Presenting what you trade and sell becomes much easier when you have your products in a digital format.
As PIRO tracks all your styles in real-time, it will be easy to print out a catalog or line book to support your sales efforts.
Typically, B2B businesses use the PIRO Customer Portal to present their collections and accept orders online.
Centralized sales order management
Sales orders can be created easily in PIRO, however this is just the tip of the iceberg. If you opt in to set up your own Customer Portal, you can even automate it: your clients will be able to send Sales orders directly into PIRO, and no intervention will be needed on your side.
Then sales orders can be invoiced or converted into job orders, if you need some of the items to be manufactured.
Centralized product management
Saving style templates in PIRO is a key step towards automation. Styles can have automated pricing, subitems with variants, SKU numbers or minimum and maximum stock levels. You can allocate specific attributes to each of your styles like ring size for wedding bands, 4Cs for diamond bands and length for necklaces.
These styles are perfectly synced with the Customer Portal or in some cases with e-commerce platforms too (e.g. Shopify).
Spend less time with accounting
As invoices or credit memos can be created within minutes, the time spent with them will be significantly shortened. Your accounts payable and receivable can be tracked in a single system.
PIRO's QuickBooks Bridge will sync your invoices to QuickBooks (Desktop or Online) so no double data entry would be necessary.
Minimize manual data entry
Integrations are becoming more and more important as they can automate processes that you typically handle manually or separately. Whenever you need to update your item prices from the metal market or Rapnet, in PIRO this is just a setting you configure once. GIA integration pulls the diamond attributes based on the GIA certification numbers. Integration with shipping providers can automate the shipping price calculation and shipping label generation.
Are you receiving orders through your website? It's possible to integrate it with PIRO.
Omni-channel sales is here
Omni-channel sales practically mean that you are not relying on a single sales channel. By building up an e-commerce platform (or multiple platforms), you diversify your sales revenue. However, this type of sales method can be effective only if orders from sales reps or from online platforms are coming into the exact same system.
PIRO can be integrated directly with Shopify or Etsy and connected with Amazon or eBay through middleware platforms like Listing Mirror, CommerceHub and SolidCommerce.
Looking to integrate with bigger jewelry brands or platforms via EDI? Sure, no problem.
Sign up for a quick call or demo
We are ready to show you how your company can achieve the same benefits
Choose a date and time
Jewelry wholesale companies that run on PIRO Fusion
Customer Portal for accepting wholesale catalog orders
The Customer Portal is an online toolset used to receive orders online (catalog orders, custom orders) directly from your retailers or other customers.
It provides 24/7 online access to your catalog or collections, which means that jewelry orders can be placed any time.
Never miss a sale, be ahead of your competition by opening up this new, innovative sales channel.
Customer self-management
Managing profile online
View order history
View and print invoices
Credit card update
24/7 access
Sales automation
Online product catalog
E-commerce shopping cart
Processing credit card payments
Integrated shipping tracking
Consignment (memo) tracking
The demo Customer Portal is free to check
A PIRO-automated wholesale business model (example)
When we implement PIRO, we don't ask you to change your processes, we just automate the existing ones.
The example below presents how our software solution handles various jewelry wholesale operations and scenarios.
Frequently Asked Questions
No, you don't have to manually adjust the inventory when you remove items from your safe. It's all automatic. Whenever you sell or buy an item, or create an incoming or outgoing consignment order, the system will remove that particular finished jewelry, stone or diamond from inventory. It's all organized, searchable and simple to track.
Memos are always tracked separately from your actual inventory. All the relevant information will be available under the outgoing consignment (OC) menu of PIRO Fusion. You can search for items, track deadlines, customers and handle the sold or returned items.
Yes, PIRO Fusion can track minimum or maximum inventory levels and can create Purchase Orders whenever you are running low on stones, diamonds or finished pieces. This is essential to run your business smoothly and avoid having too much/excess inventory.
Yes, PIRO Fusion supports FedEx, USPS, ParcelPro and it can calculate shipping rates. Moreover, you will be able to generate shipping labels in PIRO Fusion and pull the tracking number from the shipping provider's site. If you use the Customer Portal, tracking numbers can be synced back to it, thus your clients will be informed regarding the status of their order.
Although PIRO Fusion can handle invoices, customer credits and payments, we use QuickBooks for accounting purposes. QuickBooks Bridge is an add-on to PIRO Fusion and you can automate the mapping with it: all invoices, credit memos and new clients can be mapped over to QuickBooks in real-time.
There is no limitation on how many of your clients can use the Customer Portal. You are able to give access to all of them or only to selected ones. The only limitation is related to orders. By default, 500 orders can be accepted through the Customer Portal per month. Our representatives will provide more information about this when a PIRO proposal is being submitted to you.
Yes, the Customer Portal allows your clients to send in custom orders either from scratch or by customizing existing styles. You can receive these orders in PIRO or in PIRO Fusion as Sales Orders, Price Quotes or Job Orders - it's up to your preferences. The Customer Portal is a true gateway to your customers.
Yes, the PIRO Fusion system allows you to bulk import Sales Orders using Excel sheets. Typically, this happens when sales reps return from a sales trip. For such scenarios PIRO Fusion has even better solutions: sales reps can use the PIRO Catalog app (runs on Android) or they can use the Customer Portal to enter Sales Orders on behalf of customers. And yes, the order entry to PIRO Fusion happens in real-time if they use these tools.
E-commerce integrations can vary by a large amount. If you use one of our "on hand" integrations like Shopify, Etsy or Listing Mirror then the connection can be done quickly, and only a small, flat setup fee needs to be paid. Noted that a small monthly license fee is also applied to these plugins. Integration with other platforms like WooCommerce or Magento is often complex and cannot be done in exchange of a standard fee. These kinds of projects are estimated separately on a case by case basis.
EDI integration with legacy platforms of bigger brands also requires custom work as EDI protocols are different for each system. At the moment have the synchronization process developed for the following EDI document types: 850, 855, 860, 856, 810, 852.
You must see it before you move on
PIRO has unique features that no other software in the jewelry industry can offer
Fill out the form below
How to use Zoho Meetings?
We use the Zoho Meetings platform for online meetings and appointments. Once the appointment is set, we will e-mail you the meeting link. Zoho Meeting is a simple platform, but if you need help, you can get instructions on how to use it: How to Join as an Attendee on Zoho Meeting.
Contact us
MindSpark LLC
630 Fifth Avenue, Suite 2000
New York City, NY, 10111
Tel: (888) 245-1563 #1
Email: sales@gopiro.com