E-commerce and the near future
Here in the US, where the jewelry industry is especially well developed, I often see statistics about retailers closing their shops. The retail jewelry industry was shrinking around 4% last year alone.
This could give us in the jewelry industry a real reason to worry – however, it don't necessarily see it as a bad thing. As these retailers are closing, at same time actually more online jewelry stores are being opened, including a lot of stores that don't even have a physical showroom or shop. So it might be more accurate to say that the jewelry retail industry isn't shrinking – rather, it's changing, and it is changing very quickly.
In the past few years we were the witnesses of how online sales of fine jewelry is rising with the wave of new-age, tech-friendly buyers. At this point however it is important to mention that online stores are often a complement to brick-and-mortar shops, not a replacement of them.
Thus, offline retail should no longer be looked at in isolation. Retailers should integrate their online presence with their offline presence and have their online-offline operations work in sync to derive better results at their retail stores.
The idea is that more and more customers do their research online, but still purchase offline – in stores. Around 87% of shoppers now begin looking for a product online, before even stepping into any store.2 But Brick-and-mortar stores still play an important role in general retailing, with 46% of shoppers saying that they prefer to buy in a physical location. However, over a third of them, or about 35% do prefer buying via laptops and 18% prefer buying via mobile phones. These are big numbers and merit careful consideration when developing a sales strategy.
The consequence of this buyer behavior is that jewelry e-commerce competition will be fiercer in the following years. The question is: how ready are you for these changes?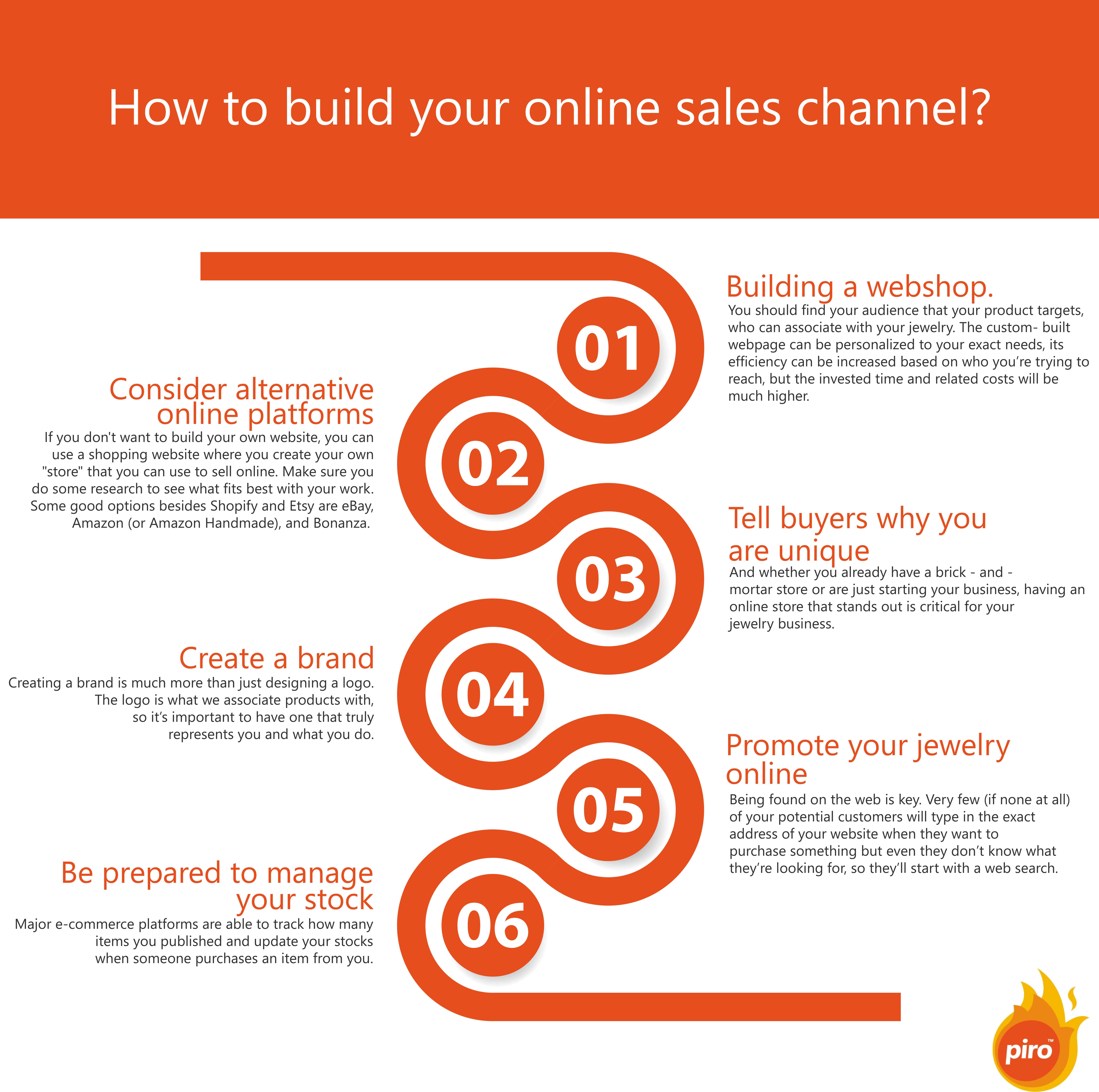 So what advantages does an online jewelry store have?
First of all, an online store is easier to shape, unlike a brick & mortar store that can cost hundreds of thousands of dollars to set up. An online store can be up and running spending small fraction of that. Also, one an online store is up and running, it's operational costs are marginal – while maintaining a brick & mortar store will have significant ongoing costs.
An online store can be open 24/7 and give buyers the possibility to browse your offerings from anywhere, anytime.
An online store gives you the opportunity to step on the global market, and it definitely can help you to step outside your local market.
It's a new trend to sell on several platforms at the same time – not just on your own web shop, but other platforms like Shopify, Etsy, and so on – Omni channel selling is a very efficient approach for reaching many potential customer nowadays.
An online store gives an opportunity for shoppers to look around the virtual shop when it's comfortable for them to do so, and to discuss their shopping decisions with other people in a private sphere. Online shopping is an especially strong trend amongst the younger generations – this trend is affecting all industries and it's not very likely for this to change in the future. Technically opening an online jewelry store can be regarded as a 'fleeing to the future' – as you are building your future by having one.
Of course opening an online sales channel is often challenging for jewelry retailers as they have less or no experience in this field. Most jewelers operate in a highly personal manner and changing this paradigm requires a lot of effort and energy.
So let's talk about the challenges of opening an online jewelry store:
First of all, operating an online sales channel requires a different marketing approach. For many jewelers this is unknown territory. Taking high quality photos, creating a user-friendly website, allowing for customizability of jewelry, doing content marketing and online advertising – these may all seem foreign things. Also, attracting shoppers is not easy in the online space. Although there are many possibilities, without the right strategy and professional expertise, the chances of online marketing producing little results are high. However, if done right, the upside and possibilities are much higher than those of the traditional marketing tools.
Customer service requires more attention because the online space provides a much higher transparency: customers can write reviews very quickly and if their experience is bad, they'll move on quickly. Rather than considering it a burden, you should look at good customer service as an opportunity that can take your business to a new level.
Having high quality photos, 3D view or even augmented reality applications are becoming more important as the buyer must feel as close to the product as it is possible – even when viewing it virtually.
The role of the brand will be the most important – otherwise you won't be able to stand out. Staying unique in the online space, both with products and looks, and finding the niche market that you can lead is quite important. You can't sell to everyone; small companies usually don't have resources for that so you should find your niche market that is only partially served by the big retail giants.
Offering customizable jewelry is essential but at the same time it is a huge technological challenge. Offering customizable jewelry is one of the best methods for getting new customers making them feel that they are part of the creation process. Customized jewelry is the fastest growing part of the jewelry industry – you should figure out how you can be part of it if you are already not doing it.
Finding the right online platform and right back-end software that supports these changes is my last point of this list. Building an online sales channel without the right technology is simply impossible. And the technology should be flexible, so you can quickly upgrade it if things change – which inevitably will happen.
How to build an online sales channel?
Getting started can be difficult and raises many questions. How do you set up shipping? What's the best way to market your business? Before that, how do you even build an online store?
Most of the readily available e-commerce website builders offer templates that you can work with and even though these templates can be somewhat limited, with some time and effort you can build yours to be pretty close to the way you like it. We suggest you take a closer look at several platforms and see if they have the features you need.
1. Biulding a webshop. But as the first step, do extensive research, find your niche.
You should find your audience that your product targets, who can associate with your jewelry. In marketing this is called the 'Buyer persona'. When you have this, you can build your brand, your communication, your sales strategy upon this, and you need to find the right platform, vendor or dropshipping partner for this. As to the platforms, you can build a custom webpage that is built on one of the well-known platforms (like WooCommerce, Magento, BigCommerce, PrestaShop, Wix, etc.), or you can create a personal store on one of the sales platforms like Shopify, Etsy, etc. The custom-built webpage can be personalized to your exact needs, its efficiency can be increased based on who you're trying to reach, but the invested time and related costs will be much higher.
The webshops created on sales platforms, although they offer a huge variety of templates, they have their limitations, but even so they could mean a cost-effective alternative. This is a considerable option especially for startup companies.
2. Consider alternative online platforms
If you don't want to build your own website, you can use a shopping website where you create your own "store" that you can use to sell online.
Perhaps the simplest way to sell jewelry online is to register to an existing e-commerce website like Shopify or Etsy. They have many templates you can choose from - it is very likely that you will find one that represents your brand. With the looks of your store already in place, you can start uploading your products.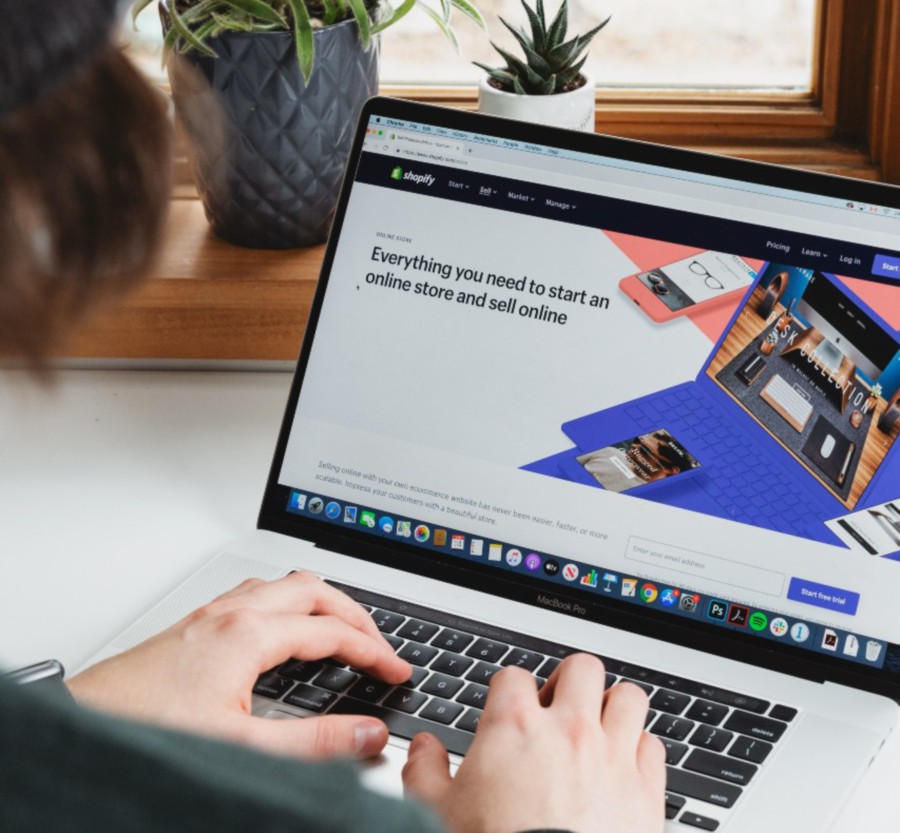 Make sure you use the highest definition available for your photos, focus them on the smallest details to express the finesse of your unique pieces.
Services and costs vary widely from company to company. Some will charge you per item, others will charge a percentage of your overall traffic and there might also be a recurring maintenance fee involved in the service. Make sure you do some research to see what fits best with your work. Some good options besides Shopify and Etsy are eBay, Amazon (or Amazon Handmade), and Bonanza. E-bay has even posted a Jewelry Selling Guide to help you get the most out of your online sales.
A huge advantage of these platforms is that they are optimized for mobile devices, making browsing and purchasing a piece of cake, even on the go. This is something you should seriously consider in the day of age where the vast majority of people - your potential customers - have smartphones in their pockets. According to last year's statistics, over 52% of the world's web pages were visited from mobile phones.(https://www.statista.com/statistics/241462/global-mobile-phone-website-traffic-share/)
3. Tell buyers why you are unique
Creating your own online jewelry store can be lucrative but this business faces also a fierce competition. You will be listed among thousands of other jewelry businesses who are trying to attract customers, so make sure you let your potential customers know what makes you different from others. Whether you make fairtrade jewelry or describe your pieces in haikus, you want them to know.
To be able to put your business on autopilot without a lot of upfront expenses as I mentioned previously, you should seek out a reliable wholesale supplier that is willing to drop ship straight to your clients. When you first get started, many wholesalers will require you to pay upfront for the merchandise or pay a deposit to start doing business with them.
There are many suppliers who offer turnkey packages where you can just input some personal information and be up and running immediately. Usually, these companies will charge you for the service and this can be a one-time or a monthly fee. One problem with these sites is that they usually all look alike and you really want your site to stand out.
And whether you already have a brick-and-mortar store or are just starting your business, having an online store that stands out is critical for your jewelry business.
4. Create a brand
Creating a brand is much more than just designing a logo. The logo is what we associate products with, so it's important to have one that truly represents you and what you do. Starting from the moment we find the product, throughout the moment we lay our hands on it, will add to the value of your logo, so you need to make sure you treat your customers right - but you obviously know that already.
Whether you are selling online or offline, being unique will play a huge role. Just a few minor touches and thoughtful gestures throughout your interaction with your customers will help distinguish your name from others and make the purchase memorable.
5. Promote your jewelry online
Being found on the web is key. Very few (if none at all) of your potential customers will type in the exact address of your website when they want to purchase something but even they don't know what they're looking for, so they'll start with a web search. Major e-commerce platforms like Shopify come with a few features right out of the box that will help your products achieve a higher ranking. This can save you a lot of time start bringing people to your online store from the very first moment. However, promoting your online store should be an ongoing strategy and should include multiple channels like Google Ads, Facebook, Instagram. Building a brand won't come easy; continuous paid promotion is needed alongside with great customer service.
6. Be prepared to manage your stock
Major e-commerce platforms are able to track how many items you published and update your stocks when someone purchases an item from you. Not having to track these manually can save you a lot of time that you can focus on your customers instead! You can allow to have errors and mistakes, online buyer must get in time what was promised, therefore is highly recommended to use a powerful inventory software in the backend.
The importance using a backend order management system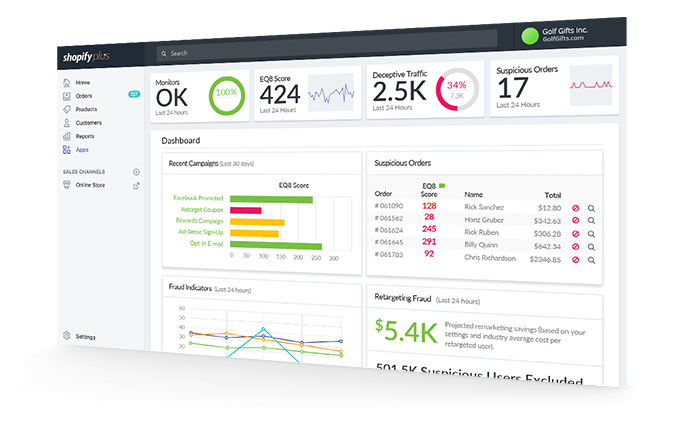 So how will you handle you orders that are coming in online? It's easy to create a confusion if online and offline orders are mixed and you stock level is not updated in real time. You can't sell an item offline while your online sales channel is still showing it as an available item.
So the need for an integrated management system is inevitable. This system should be hooked up with your online sales platform or website and at the same time should handle all the offline actions like inventory tracking, offline sales or even manufacturing.
If you are using an advanced system that can flexibly handle your styles and style variants, this system can serve as a backbone for your online jewelry configurator. These configurators are extremely popular and most of the online retailer like jamesallen.com or zales.com are using it.
If you would like to have similar configurator on your website, we can show you a few examples as we were working on similar projects in the past.
As a summary , I would like to highlight again that the online jewelry market is a growing market as the younger generation is more and more into the online purchasing. Traditional retailers, however, should not consider online sales as a competition, rather they should embrace e-commerce too. Research data shows that 87% of shoppers begin product searches online thus an online presence can boost the sales in the brick-and-mortar store as well.
Online sales require a different approach from jewelry retailers, in terms of marketing and technology they must innovate. It's very difficult to keep your orders and your inventory organized if there is no dedicated software that can track both offline and online orders in the same database. You should pay much attention to this as it could easily harm your online reputation if you do mistakes.