How can smaller jewelry retailers and manufacturers stand out from the crowd and grab market share on the branded jewelry market? The value of jewelry branding is increasingly important; the branded jewelry segment has doubled since 2003. It is expected to comprise 30 to 40 percent of the fine jewelry market by 2020 – there is certainly enough room for more jewelry brands. The next few years could mark a revolutionary age for jewelry brands.
Branding is not just for globally popular names like Tiffany & Co or Pandora. Well designed, stocking brands can result in a significant business boost even for newcomer brands. Would you like your jewelry line to be the next well-known jewelry brand?
Source: mckinsey.com
What is jewelry branding?
Most people think of a brand as a logo, a symbol, a name or a set of colors. But the real definition is far more intangible: it's about what your customers think, feel, and tell their friends about your jewelry. Your customers' thoughts and feelings are directly influenced by the way you communicate your brand message, and how you treat your customers.
Jewelry branding is an ongoing strategy for influencing buying behavior and building customer loyalty.
The key element of this strategy is to create an emotional connection to your brand and to your jewelry style – once you achieve this, customers will be coming back again and again.
It's not hard to predict why the importance of jewelry branding could continue to rise: people love wearing branded jewelry that earns recognition among their friends. The younger generation have been developing their own shopping trends, and are open to new brands.
Having an established jewelry brand is certainly an excellent way to grow, but you don't get there overnight: there is a long way to go until a jewelry brand stands out and sparkles.
A bit more about bigger jewelry brands
Most of the top jewelry brands started out early – their roots go back to the 19th century or even to the 18th century. To highlight some of them: Tiffany has been branding its jewelry since its beginnings in New York in 1837; Cartier began manufacturing in Paris in 1847; Bulgari's history goes back to Italy in 1884. Throughout the years, new jewelry brands joined the sector such as Pomellato and David Yurman.
The Denmark-based Pandora, founded in Copenhagen in 1982, became a global jewelry brand when it entered the U.S. in 2003. Today, Pandora is one of the biggest jewelry brands having 10,000 retail stores in 70 countries around the world.
Tiffany & Co. and Cartier are ranked as part of Interbrand's top 100 brands. Jewelry retailers expect that brands such as Swarovski and Pandora will be joining their ranks by 2020. (Source: Interbrand)
What was their key to success?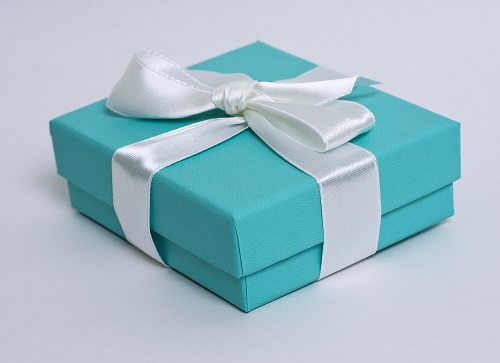 We could write a whole book about this question, but the simple answer is: their marketing, their jewelry branding strategy - the way how they distinguished themselves on the market, e.g. their visual identity. One of the best examples is Tiffany & Co., which is a recognizable, timeless brand, well known by its iconic blue box. Today, Tiffany's Blue Box is synonymous with quality.
All of the big names started out as a local, regional company, but did something different than the other local jewelry shops. They built an instantly recognizable brand, along with a customer experience that is professional and consistent regardless of the geographical location.
How to initiate your own branding strategy?
As a starting point, we recommend you to read books and articles on the subject. Books are always the best source of knowledge, providing many useful ideas about how to start creating a brand. Our first recommendation is the following book:
Is branding possible for small jewelry businesses? We believe that jewelry branding is not just a myth when it comes to small jewelry companies, and that jewelry branding is not just for high-end, luxury jewelry distributors.
"The fine jewelry market can be split into 3 price segments, the affordable segment (defined as jewelry with a price less than USD 1,500), in which PANDORA operates, and the luxury and high-end jewelry segments (prices of USD 1,500 to USD 10,000 and greater than USD 10,000, respectively)". (Source: Pandora)
Even handmade products can be branded. Handmade products are strongly associated with the creator, the designer, therefore crafting a story around the designer and linking it with the product can be a powerful branding tool.
Creating and establishing a strong jewelry brand is never a one-man job. Jewelry branding is an ongoing effort where everything is connected, and you need to work on the entire branding experience if you want to make a lasting impression and to build a brand that grows your business.
Ready to start? Branding begins with the product you sell, which should first of all be unique. This is vital because of your market differentiation; you should create something different than other jewelry competitors. Your jewelry branding strategy should be based on the unique selling proposition that describes your product.
Superfit Inc, one of the companies that uses the PIRO jewelry software, has a unique product feature - an invisible hinge design that allows the ring to open and close easily, safely, and securely for an elegant fit and easy removal. That is the trademark of their jewelry brand.
Superfit. Love Fits.
Besides defining your USP (unique selling proposition), your brand should be backed up by excellent customer service, perceived value and cohesive visual identity. Your jewelry branding strategy should involve the primary sales channels, as well as tactics how to attract your buyers and encourage repeat purchases.
Attracting your buyers needs to be outlined as it fits to the new era of marketing, called inbound marketing. Inbound marketing offers tactics about how to create brand awareness, attract and inform new customers via channels such as blogs, social media, direct mail, etc. The focus is on earning someone's attention (inbound/pull marketing), rather than try making them buy something outright (outbound/push marketing).
Creating a buyer persona is also a key point when building your strategy. Who are you trying to target? The Gen Y, the middle-aged people? Buyer persona is the character profile of your ideal customer. Once you know who your clients are, what they want, and what their life is like, you can start creating a brand strategy and content that is tailored for them. If you don't have a good senses of who is buying your product, you'll never be able to market to them effectively.
This post is merely an introduction on this topic. What is important to acknowledge is that brand building takes place over time, so the sooner you start consistently implementing your jewelry branding strategy, the sooner you'll see results!
Some of the important elements of a strong jewelry branding
Brand name – Choose a unique business name that is modern and accurately represents your jewelry brand (think of Superfit again). You shouldn't take the big brand names have been on the market for more than a century as an example. They are recognized because they have a history, but your brand name has to follow today's trends.
Well-defined brand story – People love stories. Stories emotionally engage customers, and as such a brand story is considered one of the most important elements of a brand. Stories can tell something remarkable about your jewelry and company, how it is made and how it came to be. Always keep in mind the emotional connection, and share your story everywhere!
Visual identity (display, packaging design and color) – This is part of the shopping experience and is just as important as the product itself. The display should be elegant and consistent throughout your stores, and bring out your unique value proposition. Branded and quality packaging is also a good investment, as that's going to represent your brand when the product is out from store. Furthermore, the customer experience can be boosted by adding valuable or personalized things to the package:
Small story about the jewelry piece that they just purchased (creating emotion)

Instructions of how to take care of the product (protecting the value)

Coupons (encourage repeat purchases)

Personal message (personalization e.g. a handwritten thank-you note)

Gifts (surprise them, everyone likes surprizes)

Business cards (make it easy for them to refer you)
The package can become an integral part of your brand awareness. What do you think of when you see a greenish-blue colored box crowned with a white ribbon? Yes, it's the Tiffany blue box. The Tiffany Blue color is protected as a color trademark by Tiffany & Co and is extensively used on promotional materials, including boxes and bags.
Create your own visual identity just like Tiffany does.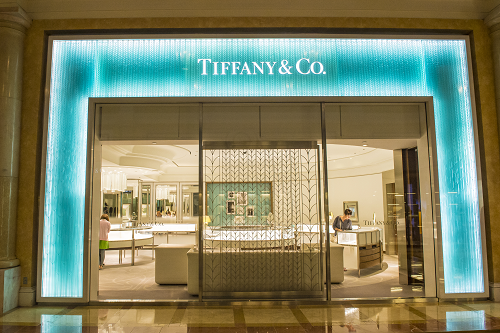 Tiffany & Co store in a shopping mall in Las Vegas
Embracing social media – In the age of inbound marketing, social media is a channel with a lot of potential. You can use it for increasing your brand awareness via storytelling, sharing informational and visual content (younger generations like to communicate visually). Most importantly, your satisfied customers could turn into brand ambassadors using social media, as they can easily share pictures, videos about the product they are proud of, and include tags to promote your brand.
"According to the 2015 Dotcom report, four out of 10 online shoppers have shared a photo or video of a product they purchased. And, you guessed it, customers are more likely to share if the packaging is attractive." (Source: Rio Grande blog)
Here we are. This is why your visual identity and consistent brand packaging is so important. In the post bellow, you can read more tips how to use social media to promote your jewelry brand:
Website and e-commerce – E-commerce is perfect for promoting jewelry brands, especially for Gen Y who have different purchasing habits compared to their parents, who are more loyal to bigger brands and prefer to purchase jewelry the old way. The jewelry e-commerce market is certainly booming and newcomers should use it as part of their jewelry brand strategy.
"According to Research and Markets, the global jewelry market is expected to reach $257 billion in 2017, and grow at a rate of 5% per year over the next five years. While the online fine jewelry market currently accounts for only a fraction (4%–5%) of this, it is expected to grow at a much faster rate, and to capture 10% of the market by 2020." (Source: Forbes)
An e-commerce website allows buyers to customize their choice of jewelry before buying it, while rapid prototyping (3D printing) and other technologies make it possible for companies to provide samples to the customers before agreeing to the final design.
Customer service - Your brand is your promise to your customers. Trust and customer retention is gained through excellent customer service. No matter where your customers meet your jewelry brand, online or in any place around the world, they should get the same value, same service and same emotional connection. That is why big jewelry brands can go global. Are you ready for the challenge?
Jewelry branding service
Our company now offers consulting services for companies that are looking to stand out from the crowd. We are ready to take your company/brand to the next level - our jewelry branding services include brand analysis, strategic planning, market research, visual identity and online marketing. Our developers are experienced in creating jewelry websites and e-commerce websites as well.
How to evaluate your current brand power? Come back to our blog later, we are working on a unique tool, a brand evaluation model that allows you to measure your brand power!
Interested in working with us? Just fill out this form and we will get back to you soon.
Please like and share if you found this article useful!