We've been preparing full steam for the New York Spring JA 2020 show when it suddenly got canceled due to the coronavirus threat. Actually, the other two shows, the MJSA and the Gem Fair were also canceled at the same time.
The downside of canceled trade shows
So there was a definite impact for us, both on morale and possibly, financially – we were all looking forward to the show to finally introduce our new Gelior platform, which is a marketplace that connects all players of the jewelry industry, from suppliers to manufacturers to retailers to consumers.
But what kind of impact will the jewelry industry face as a whole? How will everyone working in this global industry be affected? Several articles are discussing all this – they all concluding that there will be a drastic reduction in activity across the jewelry sector. After all, virtually all major trade shows in Asia have been suspended, Baselworld in Europe has been postponed, and shows across the US have been canceled – and more to follow, for sure.
Several articles are following what is happening across the world, reacting to the news as they come in. No one, however, is discussing how the effects of events like the looming coronavirus pandemic could be possibly mitigated. If you think about it, the main reason why trade shows are getting canceled is to prevent the spread of the virus, which can be only done by limiting in-person interactions between people. And currently, there is no alternative to this in-person interaction – and this will surely have a negative impact on the entire industry.
#11 Vlog on Next Level Jewelry with Zsolt Torok
Subscribe to our YouTube channel
To sum up what lead us here:
In order to avoid contracting the virus, many companies are canceling their appearance on trade shows. This affects everyone: the exhibitors as they can't sell, the buyers, as they can't procure the goods they need, suppliers as they can't network, equipment manufacturers, and so on
While some of these shows are only postponed instead of downright canceled, many companies won't be able to reschedule their appearances, thus resulting in smaller shows and less reason to attend at all
Supply chains get interrupted, as suppliers in China, for example, can't provide the goods for their clients, resulting in global shortages of inventory
Trade shows are already shrinking – the year 2020 might just break the camel's back and have most jewelers turn their backs to these shows
The problem that is affecting us all
Currently, we don't have many alternatives. Perhaps the current situation will force the industry to innovate in this area. Or, perhaps the innovation has already been started?
Indeed, our team at Gelior has been working on an online jewelry platform that can move the interactions and transactions that are currently happening in trade shows such as the JA, MJSA, JCK, VicenzaOro, and similar shows completely into the virtual, online space – all this in an organized, transparent and trusted way.
You probably haven't heard of the Gelior platform as of yet – that's on purpose as we were developing it in stealth mode until it became market-ready. We planned to introduce it at the JA show – but we had to change our plans. It's exactly the coronavirus and its effects on the jewelry industry is the thing that highlights the necessity and need for a platform like Gelior.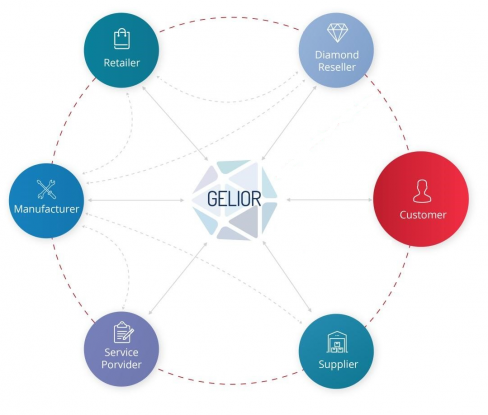 The advantages of online marketplaces
First of all, you can do everything you do at a regular trade show, but it's now all faster, more convenient and more efficient. So events like the current one won't interfere with the regular workings of your business and your plans.
You can use it 24/7, 365 days a year – you can sell, buy, network, and present and market new products and services – all online.
There is no need to pay tens of thousands of dollars for a booth space, setup and travel for you and your sales staff
A trade show is a sales channel where sellers can meet buyers and transact with each other. Gelior can do the same, but instead of one sales channel there will be many, as it's integrated with Amazon, Etsy, and many other platforms. This will result in more efficient sales with higher transaction volumes.
Our platform will automatically take care of quality control and assurance. For example, you can review a business' past performance, reviews and ask for references before you engage with the business. Gelior will track all transactions and allow visibility into the past performance of companies so that you can be sure that you select the right partners. It is in the jewelry industry's interest as a whole to filter out businesses that work using unethical practices – so that you can make sure you work with reputable partners.
In the jewelry industry, it's pretty common that companies work with international partners, or even outsource their whole manufacturing process to a foreign company. Big international trade shows are great to meet potential partners, but not so great to meet talented individuals who may not be able to attend a show organized for larger businesses. For example, you may be looking for a good CAD designer but can't find one, even though there may be many qualified CAD designers in India or Peru or other places. You would definitely be able to find such individuals on our platform. And as I mentioned earlier, Gelior will do the quality assurances so you can reduce your risks of working with an unreliable or unresponsive person or company.
Gelior does not limit you to either business-to-business or business-to-consumer transactions. If you are running a B2B company, you can fairly easily extend your products or services to the consumer market, or vice versa.
If you are a service provider, the platform is a great space to find companies that need your services. It's not easy to sell services in a traditional trade show setting. On the other hand, you can do much better with service offerings online as you can present a portfolio, provide price quotes and get references after services have been rendered.
Transparency and traceability are all issues that the jewelry industry has been fighting for a very long time. There were many attempts to reform the industry – such as the Kimberly process – but can we really be sure that the diamonds we are looking at have been ethically sourced? There is no sure way to tell. However, there are several initiatives, based on blockchain technology, that allow tracking diamonds and materials moving through the jewelry supply chain. The Gelior Marketplace takes this one step further – you can track the provenance of every material used in a piece of jewelry, along with the historical performance of the companies or individuals supplying those materials. Since blockchain records cannot be altered, this information can be used to finally certify jewelry as conflict-free, ethically sourced and/or responsibly sourced. There will be no questions and doubts about any part of a ring, or necklace, or bracelet. Every piece sold in the marketplace will have trust built into it.
Summary
So we can see that technology can provide solutions for situations like the current spread of the coronavirus. Sooner or later the jewelry industry will go through a transformation where trade shows will get smaller and even disappear completely, being replaced by other ways of organizing transactions and personal interactions – and more likely than not these transactions and interactions will happen online, on virtual platforms like our Gelior Marketplace.
Conclusions: an online future
There are many who still doubt that the jewelry industry will go predominantly online – even though the numbers clearly point to that. Many have scoffed at lab-grown diamonds – and yet it's the fastest-growing area of the jewelry industry. The Gelior Marketplace is a technological innovation, and most assuredly there will be many who will still keep going to trade shows. However, we invite every jewelry company, jeweler, supplier, designer and everyone else interested in the jewelry trade who is forward-looking and sees the opportunity to become a member of our network so that the industry can move forward even during events like the current one.
You can read more about Gelior Jewelry Marketplace here: gelior.com
I look forward to your comments and ideas. Until then, stay safe, wash your hands and stay healthy! This shall end too.