How will the coronavirus change the jewelry industry?
Coronavirus will undoubtedly shake the jewelry industry, at least as much as it did in most other global industries. We can envision the possible future if we follow what happened in China - as reported, the Chinese luxury industry experienced 70% or even 80% fall in traffic after the coronavirus outbreak there.
"People are not in the mood to shop for jewelry," said Zhang Yongtao, CEO of the China Gold Association.
(Source: Fortune)
But as soon as the country came out of lockdown, the sales started to spike again. So let's hope for the same in the world and in the US as well. An interesting fact was mentioned during the epidemic period: as the gold price went up, the people from Hong Kong started to sell their gold jewelry  – hoping that they can buy it back or buy new ones after the coronavirus epidemic is over and the gold price goes down. (Source: South China Morning Post)
The coronavirus crisis in the US, home to the biggest jewelry market, is still on its way to the peak. Many jewelry stores and manufacturers just started to close their doors and furlough their workers so the situation is very much fluid over there still. This time will be a watershed moment for many jewelry companies.
But for those who are not sitting back and who are working to improve their business even under such conditions, this situation can be still turned to their favor. While the current environment will force many companies to close, those that remain will return to business stronger than before.
There is one segment in this industry which will be less affected by the coronavirus and most likely they can avoid the total shutdown experienced by most. I'm talking about those that already started the digitalization and process automation at their company and they have a fully working online sales channel.
With the help of digital platforms, these companies can shift their focus to online sales even if their physical store or physical sales had to be closed down temporary. Those who are not managing their business with pen and paper can fully or partially work from home as they can remotely manage their online orders, using only their computers.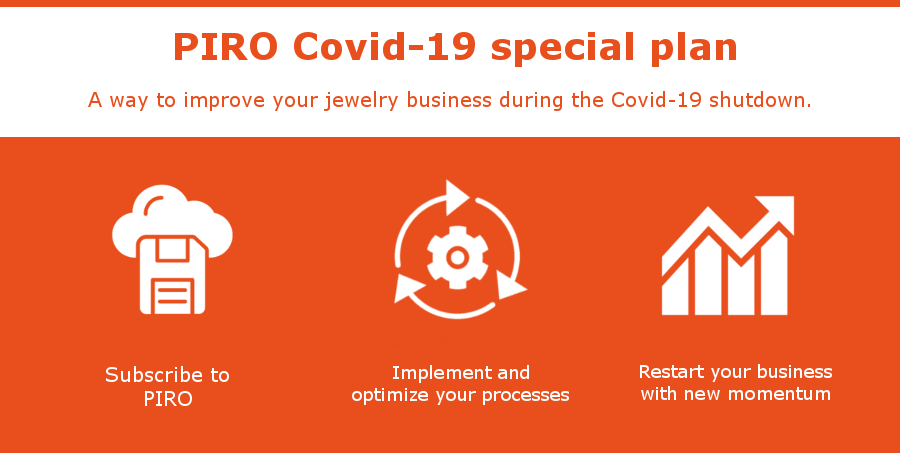 Although some jewelry manufacturing work cannot be done remotely due to the machinery required (like casting for example), most of the management staff could work from home and keep the social distancing in the facility at an optimal level. That is, if they have remote access to the centralized management system, of course. And with the right system, even bench jewelers can work from home and be effectively managed, thereby reducing the on-site factory staff to only a few people.
Companies that are able to do this will be less affected by the epidemic - and those who are digitalized and automated enough can still work remotely, at the same efficiency (or at least close to it) as before.
Our message: Stay home, stay closed but still improve
We often meet with company owners who want to implement a management automation system at their jewelry business to make it more transparent and easier to manage. They see the benefits, but many of them don't want to make time and commit the resources to implement such a system.
Let me repeat that: they are unwilling to make time and allocate resources to implement a management system. Even though such a system could mean a lifeline for them in times like this.
But fortunately, there is still time. For those who don't have such a system this (unfortunate) period is the best time to start the implementation, organize their data, evaluate their (inefficient) processes and find a way to optimize them – to be able to get the work done with minimal staff, from anywhere.
In the age of information, using digitalization and innovative management tools is important and even critical - as the current situation proves it.
During this time, being able to work from home has become more important than ever. Still many of the jewelry stores and companies that already have a system implemented are struggling to access their business data because their system is running locally in their factory or store, and is not cloud-based.
Shifting to a cloud-based management system like our PIRO Fusion platform provides forward-looking companies with a comprehensive management toolset that can be accessed from anywhere, anytime.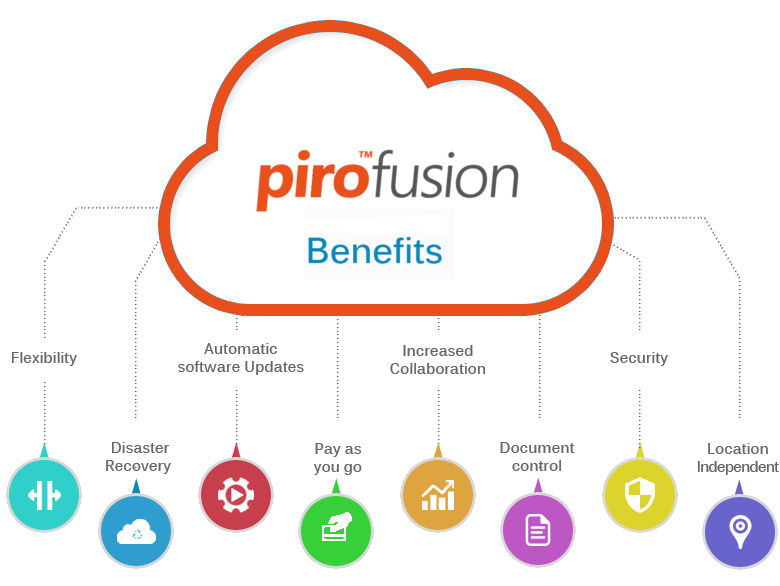 It's time to redesign the way you operate your business and be prepared for the restart. According to at least some, the restart of the luxury industry is brighter than we think:
A consumer psychologist quoted in the piece predicts that since luxury purchases are such an emotional buy, the luxury industry could benefit quickly. "Once the immediate threat [of the Coronavirus] lifts...luxury consumers will come back stronger in a backlash against all the worry and anxiety they came through." He notes that this happened after World War II, 9/11, and the most recent Great Recession. (Source: Forbes)
Our promise: Getting back to business more organized than ever before
We know exactly that this is a difficult time for all jewelry companies - therefore we would like to help them survive the current crisis – while also improving and growing as a business. Thus, we have a special offer for those who are ready to step up.
PIRO Covid-19 offer is our life line for companies affected by Covid-19.
---
All jewelry companies who will start implementing PIRO or PIRO Fusion during this period (April 13th to May 13th ) will get: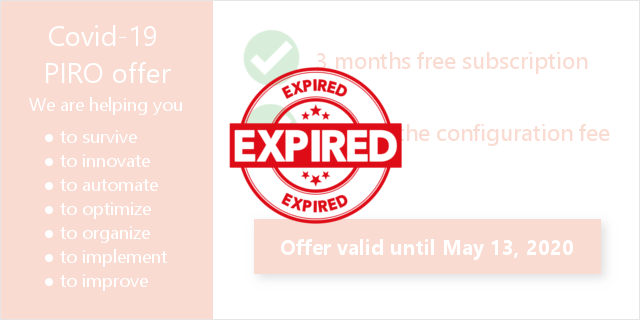 ---
It is important not to lose focus in these difficult times and keep working towards the future - sales in the jewelry industry will certainly bounce back in a relatively short time.
Those who will sit back and just hope to "sit this one out" will certainly lose market share to those who will spend this time on improvements. Those who use this time to improve will be the real winners of this situation.
If you are NASCAR or Formula 1 fan, just think of the coronavirus as the 'pace car' or 'safety car' during the race. When the safety car is on the racetrack, the competitors are bunching up together and the leading driver's time and distance advantage is eliminated. So coronavirus – thinking of it in positive terms – should be a way to get closer to your competitors. It's the great equalizer.
Is your car ready to race or will you rather stay in the pit box?
I would like to get a callback
If you are ready, let's see how a PIRO implementation looks like
Implementing PIRO has different stages. One of the most time-consuming phase - just like in case of any similar business management automation platform - is the setup and configuration.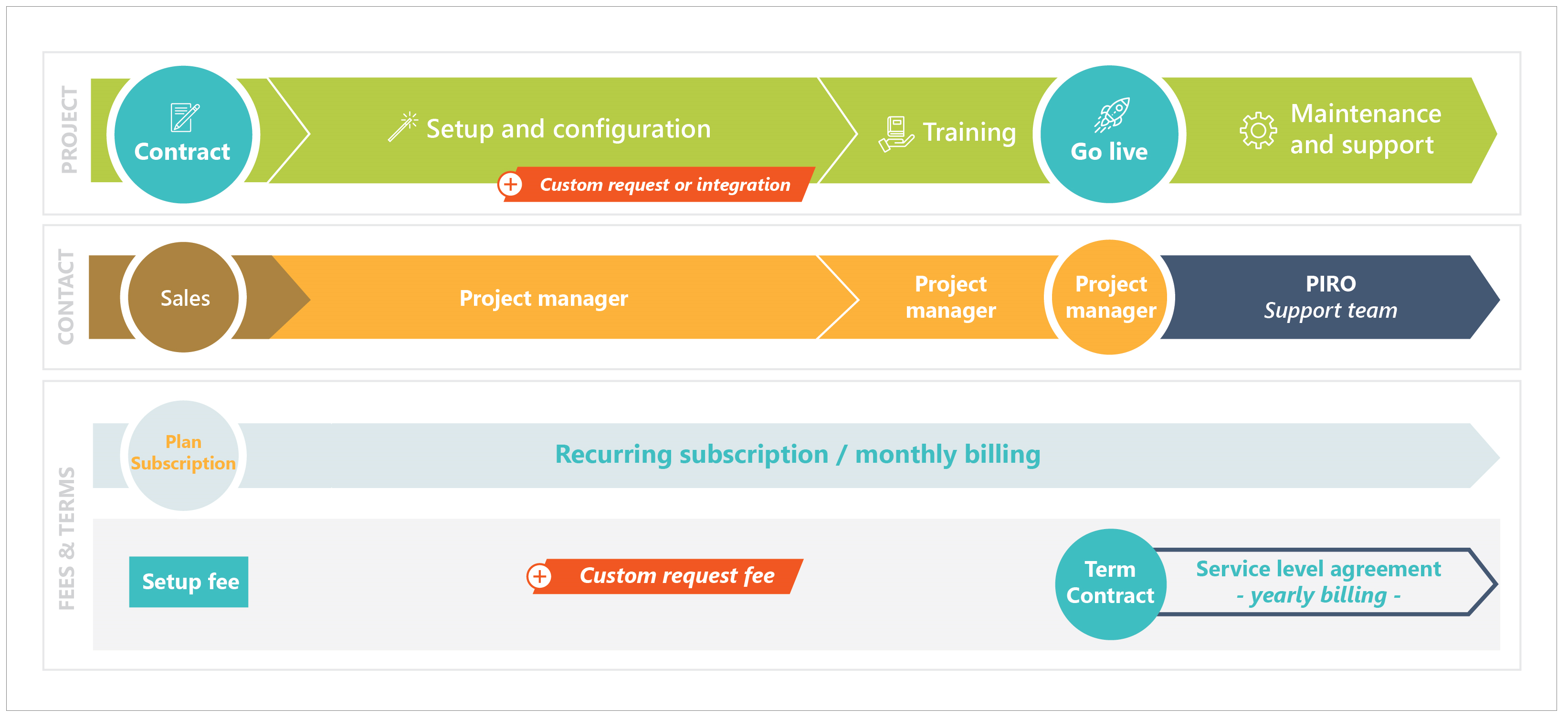 This phase includes the setting of different data structures, the configuration of workflows and other automation features. Cleaning and importing the existing data is a big chunk of work too.
Luckily, this work can be done working from home via remote meetings, and our project managers are available to guide you and help you even these days.
Ideally, the setup and configuration phase could be completed during the epidemic lockdown and your staff could be trained once you are starting to fully operate again.
This will ensure that you are coming out of this situation much stronger than when it started.