To provide insights into how a PIRO prospect goes from initial contact to implementation, we spoke with our Sales team and tracked their journey through various stages. Along the way, we found that clients employ different strategies when making decisions. In this article, we'll outline how our Sales team supports clients at each stage of the project and describe the measures we take to facilitate decision-making.
The awareness stage of the funnel: where are the customers coming from?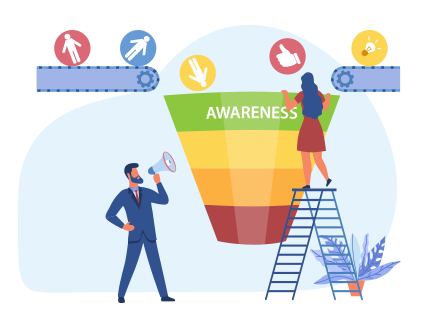 It's no surprise that 80% of our new clients reach out to us online these days, given our marketing team's long-standing focus on building our online presence. This explains why the PIRO team barely attended jewelry tradeshows recently. Before the pandemic, you could have met us at MJSA, JCK, Vicenzoro (Italy) or even at JMA Hong Kong.
While tradeshows are a great way to introduce our offerings, they seldom lead to closed deals because selecting and implementing an ERP is a complex decision-making process that often requires additional communication rounds online.
The COVID-19 pandemic has underscored the value of our online strategy, which has allowed us to maintain close collaboration with our clients even in the absence of tradeshows. We're constantly updating our website and enhancing its content to ensure it serves as the primary gateway for our customers, providing all the information they need in a well-organized and easy-to-understand format.
The first steps to take
Every month, we receive thousands of website visitors, but many of them leave the site after a few minutes and never return because they realize that PIRO isn't the alternative they're seeking. However, for those who stay, we offer three steps to explore our solution further:
They can read and watch as many written or video materials as possible to educate themselves about PIRO.
They can request a live demo or an Initial Needs Assessment call if they're still unsure.
They can subscribe to a PIRO Fusion trial.
It's important to follow these steps in order. For instance, we advise against subscribing to a trial before having a demo with one of our sales reps because there's critical information everyone should know about PIRO Fusion's functioning before embarking on a trial. A demo can open an entirely new dimension of understanding and clarify what you'll see in the trial. Although PIRO Fusion is a complex ERP system that can handle multiple business types from manufacturing to wholesale, the trial account lacks precise configuration.
During the demo, our sales representatives typically cover this information gap and address any questions, explaining what is and isn't possible in PIRO Fusion. While achieving a holistic understanding of the system may not be feasible at this stage, the demo will cover the main topics on your requirement list.
Decision-making. How do YOU make your decision?
After the demo and trial, the next step in the decision-making process is the proposal, which includes a quotation covering all license and implementation costs.
By the way, don't look for a pdf or word attachment in the email because our sales team is preparing the proposals using an online, easy-to-edit proposal tool. Just click on the link in the email, and voila. You can download your pdf version if you wish to have your own hard copy.
The proposal marks an early phase of the sales cycle, during which the client has no obligations. This proposal includes all the information the customer needs to know:
Foreseeable monthly fees (license fees for users, add-ons)
Foreseeable fix fees (implementation fees, add-ons)
Support and maintenance fees
Procedures and hourly rates for unforeseen costs (custom development or integrations)
At this point, a new round of discussion begins, during which our sales team will address any remaining questions and conduct further meetings or demos involving decision-makers who haven't yet participated in the process.
Before finalizing the proposal and transforming it into an agreement, our sales reps always schedule a proposal review call. The purpose of this meeting is to clarify any lingering questions and highlight all the essential aspects of the proposal that require careful consideration.
According to our sales team, at this point, it's time to take a step back. The decision-making process is crucial for every customer, and our sales team has identified four different approaches or outcomes:
After receiving all the information, the customer may try to explore and compare all the alternatives. Since this is a long and time-consuming process, it may take months until we hear back from these companies. Comparing different jewelry software is more challenging than one would think - they are comparable in terms of costs but difficult to compare in terms of features. In the end, if PIRO Fusion comes out as the winner, we will start the project.
After reviewing the proposal, the customer decides the time is not quite right to start the implementation. There could be many different reasons behind this decision:

The financial conditions are not favorable
There is no suitable personnel in-house to manage a project implementation of such magnitude.
Insufficient support is coming from either team members or management. We have to accept that not everyone is happy about the idea of getting new software.
The organization is undergoing significant personnel or structural changes, making it an unsuitable time to initiate the implementation. Such projects are often deferred for months or even years, with no definitive resolution. In such cases, customers usually revisit the idea after a year or two, and we need to restart the sales process from scratch.

After receiving the proposal, some customers choose to subscribe to a trial period in order to get a hands-on experience with the system. While the decision-making process is primarily based on the information gathered during and after the demo, some people find it crucial to "feel" the system themselves. It is important to maintain continuous communication with PIRO's sales personnel throughout the trial period, as they can provide valuable insights and assistance in making a decision. Our colleagues are dedicated to helping you make the best decision possible and will do everything they can to assist you.
The "Awkward Silence" approach refers to customers who do not choose PIRO and do not provide any feedback. These clients seldom respond to follow-up emails or calls, leaving our sales team unaware of whether they had financial or functional objections to our services or if they opted for a competitor. As a result, we may never know the reason for their decision.
Decision-making is an interesting topic. We make decisions every day, but decisions of this caliber - implementing a new jewelry ERP system - occur only every 5 or 10 years. It's easy to decide on things like buying a smartphone or TV because we've done it many times in our lives, and our past experiences or preconceptions help us. However, selecting an ERP is a process full of questions, risks, and uncertainties.
We asked our sales team what they could do to make the decision-making process easier for clients, and here are their answers:
The importance of follow-ups: Our sales team needs to find out if the client still lacks some information.
The relevant mass of information: It's a misconception that customers need every single piece of information to make a decision. Typically, certain pieces of information play a more significant role in the decision-making process than others. Generally, these are the "must-haves" on the requirement list. Our salespeople must identify and address these "must-have" questions.
Minimizing the uncertainty factor for customers: One of the reasons why customers are hesitant is because of uncertainty. No one likes to make mistakes, especially when money is involved. Our sales team has an important role in finding ways to reduce any uncertainties by offering a product trial, more demos, proposal review meetings, or documentation.
Providing information if the decision-making takes too long: We try to give relevant information about our system or us in general via short newsletters, even when the communication between Sales and the customer is not active.
Knowing how important this decision is for companies, there is one thing we never do - our sales team doesn't put time pressure on clients. Rash decisions could have critical consequences both for our clients and us, therefore we always play as our customers, we let them make a decision at their own speed.
So, after all, how PIRO Fusion projects begin?
As mentioned earlier, in a typical sales cycle, the demo is followed by a trial, a proposal, and/or a few other meetings that help clients clarify as many details as possible. These post-demo meetings are essential because they can help reduce uncertainty and enable the right decision.
Once the decision is made, we sign an agreement and put together a project scope document. Both PIRO and the client nominate a project manager who will start communicating about the different milestones and the information that needs to be collected. This cooperation includes regular weekly meetings and continues until the system is ready to be used live. Not all projects are equal in terms of complexity, so the implementation time varies. You can expect a period of four to six months.
Many thanks to our sales team for providing us with all this behind-the-scenes information. We hope this blog post has been insightful and helped you reduce uncertainty. We encourage you to get in touch with one of our sales representatives as they will help you make a wise decision.
If, in the end, you cross PIRO off your list, no problem. We are happy to know you and hope to work with you in the future.