Tradeshows and other live events are great for B2B activities. However, due to the nature of our business we've found a better way of building relationships with our customers. PIRO Summit - organized for the first time in March, 2018 - is a dedicated live B2B event where we dedicate our time to jewelry companies looking for different IT solutions. Let me introduce PIRO Summit to all blog readers.
Events – a place to meet your prospective customers
In today's buyer-empowered world, companies need to seize every opportunity to build relationships and earn the trust of prospective customers. The modern consumer wants more than a pitch when evaluating solutions or making purchasing decisions. Events like conferences, tradeshows, seminars and summits are great for having an in-person conversation with your prospects.
Jewelry tradeshows and conferences are widespread events in the jewelry industry as well, helping industry players to connect and became business partners, consumers. We at PIRO were always looking forward to participate in these events as they provide us with opprotunities to meet face-to-face with companies in need of a jewelry IT solution. We decided recently however to change our strategy and move towards a different type of event, something that would help us communicate more efficiently with our prospective customers. So why did we do this and what kind of events are we planning to do instead of attending tradeshows?
Tradeshows – pros and cons
Since the first release of PIRO we've participated each year in the major tradeshows in the US – MJSA or JCK Las Vegas. Although marketing and selling a jewelry software solution is much different than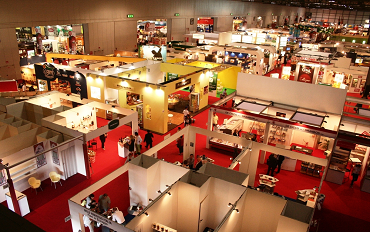 selling finished jewelry, diamonds, stones or jewelry tools and manufacturing equipment (simply because because this is a product that you can't touch it and feel) we appreciated the opportunity of meeting our prospects in person and not limiting ourselves to online demos.
However, this year we don't plan to participate in tradeshows.
It's not that we don't want to meet customers personally anymore but we certainly want to do it in a different way. But for us, tradeshows have more disadvantages than advantages.
Pros:
one-to-one communication with prospects
boosting brand awareness
lead generation and networking
educating customers & prospects
Cons:
jewelry tradeshows are shrinking – less exhibitors, less new faces
tradeshows generate less leads than before while the costs are staying on the same level (today focusing on online SEO is more profitable)
leads aren't always qualified
on tradeshows there is less time to understand the customers' critical issues and demo our solution, which is an extensive line of products covering all needs of a jewelry manufacturer (and as such, needs extensive explanations of capabilities)
tradeshows require much preparation, travel arrangements, and spending days with setting up and packing up your booth – if we consider that typically only the first day of the show is busy, the ROI of exhibiting on a tradeshow is quite questionable
Our experience is that jewelry tradeshows have less and less impact on our business so our marketing team sat together to find a better way to connect with our customers. And they came up with the idea of PIRO Summit.
PIRO Summit – Where IT technology and jewelers meet
We held our very first PIRO Summit event on March 14th, 2018 in the Rockefeller Center, New York City. The idea behind this one-day event was to gather qualified leads at a dedicated place with the purpose of educating them about our solutions, demonstrating how we can help to automate their jewelry business and solve their critical business issues.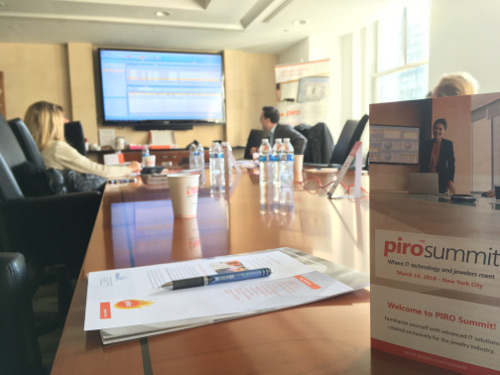 Counter to tradeshows PIRO Summit was the event where a small group of company representatives could share ideas, experiences and challenges they are facing. Learning from others' mistakes or challenges just made this event more valuable for them as there was plenty of room for interactivity.
Participant one: We started to use QuickBooks. We are about to set up our inventory in Quickbooks….

Participant two: Yes, we've done that too. It's a nightmare and at the end we had to realize that it won't solve our problem.
We had spent some extremely valuable time with the participants focusing on their challenges and getting feedback on our solutions. Compared to a tradeshow event - where in most cases the time is limited - the Summit schedule allowed us to spend more time listening to their needs and demonstrating how can they can be solved by PIRO.
In addition to that, they had a chance to talk to one of our PIRO clients either during the Summit or after the Summit when we guided them to visit a company nearby that is using the PIRO system to run their everyday operation.
Antal Zsombor, the CEO of Best Cast shared his experience with the audience:
"Since I was 16 I'm in the industry. And believe me guys, I went through the whole excel sheet and paper tracking, I used numerous systems, I hired programmers to do something custom. We've tried a lot of things and then we ended up with PIRO and I think it was a lovely decision. They implement the ideas that we have, custom things… you know… because even if the system is the most flexible system out there sometimes you still need customized for your own shop. What I really liked about the PIRO team that they are open-minded about it, they are willing to do the customization."
PIRO Summit - 14 March, 2018 - Retrospect
Conclusions
Although online interaction with our leads and good online SEO (so our prospects can easily find us) has shown great results, talking directly to our prospective clients and holding live presentations is a very important part of our business. Tradeshows certainly won't disappear any time soon but their significance slowly becomes less and less (virtual tradeshows will certainly rise, consumers will engage more online with manufacturers and retailers, and so on). The PIRO Summit event was a new experiment for us and we found it very useful, especially the ability to communicate in a cooperative way with prospective customers. It is certainly a more efficient way to communicate the values PIRO can bring to a business than a tradeshow - so we are planning to have more of these Summit sessions in the future, whether about PIRO or any other of our products.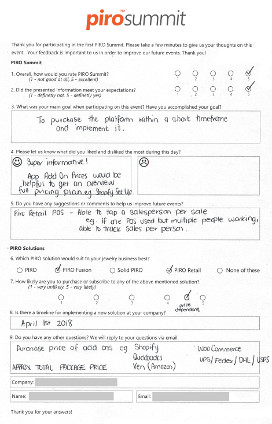 Feedback is highly appreciated
Will you attend the next PIRO Summit?
The next PIRO Summit will be on September 24th, 2018. Sign up today and save your seat: https://gopiro.com/summit