Shopify has become one of the most popular e-commerce platform among jewelers. It's ideal for everyone who needs an easy-to-use backend and doesn't want an overcomplicated item setup.
Although other platforms like Magento, WooCommerce are offering a higher level of customization, the cost of the implementation could be higher, plus, most likely, the integration with back-office jewelry ERP systems is also costly because of the above-mention custom additions to the setup.
In this post, we will focus on PIRO Fusion integration with Shopify.
Shopify bi-directional integration with PIRO Fusion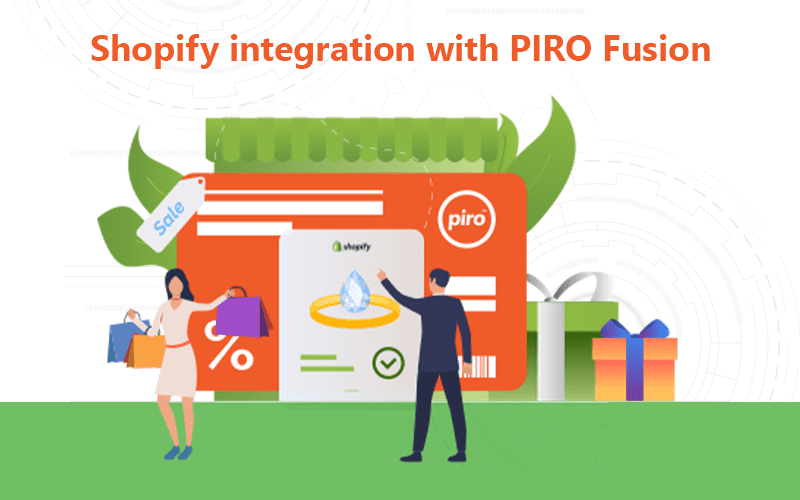 Simply put, the PIRO Fusion - Shopify integration enables you to link your online store to your PIRO Fusion instance easily. You can think of the integration as an extra store window. When a customer makes a jewelry purchase in your online store, it is recorded in PIRO Fusion.
This is good enough as a start. But companies don't work and utilize this sales channel the same way. We have met almost all the possible scenarios you can imagine:
The company is selling items on-demand, so items are being manufactured after the order is placed; no stock tracking is required; items are customizable; orders are coming into PIRO Fusion as Job orders or Sales orders
The company sells customizable jewelry and offers multiple metal and/or stone variations of the same style
The company is selling stock items; all items that are available on the website are on stock; stock level sync is required between the back-office system and Shopify
The company is selling stock items, but it allows the customers to order the items even if they are out of stock. In PIRO Fusion, these sales order items can be separated: what is available on stock can go to the invoice and Purchase order or Job order can be created for the rest of the items
Product sync is also a complex question, but we simplified it. With our bi-directional sync, we made it possible to set up or edit a piece of jewelry on either of the platforms, and the changes will be reflected on the other side. So if you would like to update the pricing, costs, images, or other characteristics of the item, you can choose to do it either in Shopify or in PIRO Fusion.
Despite Shopify having a few order statuses, in general, is not capable of tracking detailed order processing stages. These stages are typically tracked in PIRO Fusion, indifferently if the company works as a retailer, wholesaler, or manufacturer who does the manufacturing in-house. We can push automatic status updates to Shopify, like fulfillment or payment statuses.
Our Shopify plugin can pull not only the orders but the customer profiles and payment information too. More than that, if you have our QuickBooks plugin configured, the client profile and payment information will be mapped to QuickBooks automatically.
How does our Shopify plugin help the implementation?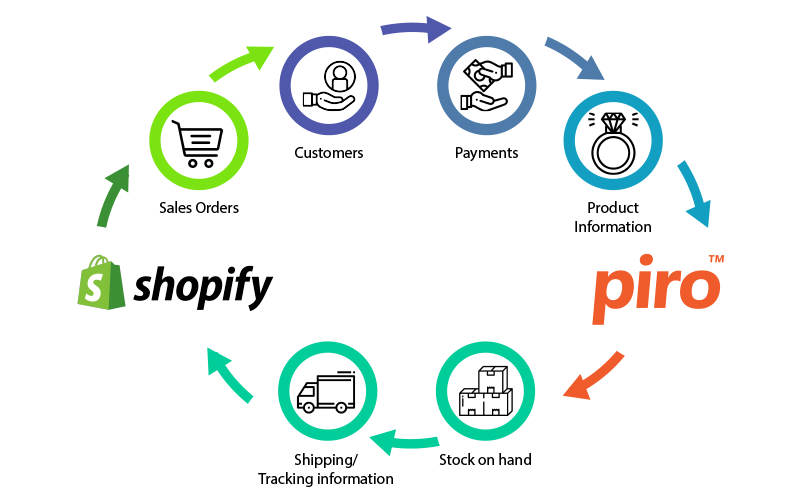 Scenario 1: What happens if you have a Shopify website already and you want to start the PIRO Fusion implementation?
Well, in this case, we have good news. Once we prepared PIRO Fusion to accept the items– we created the necessary item groups, etc. – we can start pulling the existing items, SKUs from Shopify. This will speed up the data migration process and save significant time.
Scenario 2. If you don't have a Shopify website yet, but you plan to create one, then the best way to proceed would be to finalize the PIRO Fusion setup and then set up the plugin, then initiate the migration process from PIRO Fusion to Shopify. All styles, variants, and attributes can be synced to Shopify with this easy method.
Either scenario represents your situation; with our Shopify plugin, you can just win. PIRO Fusion is one of the most advanced order tracking system on the jewelry market that runs through the web, and the seamless integration with your website will ensure that no orders will be missed.
For those who struggle to maintain the e-commerce side of the business manually, the automation we can achieve with our Shopify plugin will be a big relief.
Do you want to work with us? You can set up a call or a demo here.