Why legacy jewelry POS systems are becoming outdated quickly?
Software vendors (including the jewelry POS vendors) need to understand the industry they serve - since developing quality software can take a long time, they need to understand and prepare for future trends. Whether they succeed or fail will determine if they become the next Facebook or are left in the dust like MySpace.
In this post, I would like to analyze a few trends that I personally see in the jewelry industry, more specifically in the retail sector. Jewelry buying habits are changing, online jewelers are stepping up their game, retailers are starting to do in-house manufacturing – these are just a few of the trends that will change the direction of software solutions needed by the jewelry industry.
As a result of these changes users will turn away from jewelry POS (point of sale) systems that are not flexible and centralized, and those that cannot be integrated with e-commerce and multi-channel sales.
Legacy jewelry POS systems
While the biggest jewelry manufacturing hubs are located in India and China, the jewelry retail sector is more global (with global sales expected to be 280 billion U.S. dollars by 2020). The largest jewelry market in the world is the United States with a share of around one-third of the total market. This market highly fragmented, which means that there are around 22,500 jewelry stores in US.
The US has been historically leading in creating and adapting new technologies – the jewelry retail sector is not much different in this aspect. In the early 2000s, when the first jewelry point-of-sale systems were launched, technically-minded jewelry retail stores started to use these computerized POS systems instead of paper sheets to track their sales and inventory.
The IT segment has kept an eye on the growing demand for jewelry-specific POS systems and today there is a fierce competition: retailers can choose from dozens of point-of-sale systems.
But not all of them are scalable enough to keep up with the recent changes in the retail sector. In this article, I would like to highlight some trends that I envision for the next few years. Whether you agree or not, share your thoughts with us – I look forward to reading them and starting a conversation.
How the jewelry retail sector is transforming
In my opinion, the jewelry retail sector is changing from two different angles:
#1 - The transformation of buying habits and selling online
While a beautifully designed retail store is still a solid ground for most of the jewelry retailers, many start-up jewelry companies are running only an online store and focusing on online selling due to the significant cost advantages offered by e-commerce platforms versus brick-and-mortar stores. Online jewelers are stepping up competition with a traditional store, they are building new brands, launching new product lines, and gaining reputation. Their stores are open 24/7 so their customers can browse, compare, educate themselves online, customize and buy jewelry at any time from anywhere. In today's fast-paced world, convenience rules.
"It may not be as romantic as entering a brick-and-mortar store to buy an engagement ring, but buying online can save you enough cash for many romantic nights."  (Source: Barbara Diggs)
Millennials do most of their jewelry shopping online already and this trend will just keep growing. Traditional jewelry retailers should not ignore the online channel in 2018 and beyond:
Having an 'omnichannel strategy' * is no longer a novelty yet a necessity. Retail winners will invest in digital channels to match the experiences that would be identified with during in-store shopping. (Source: Ian Tomlinson)
* What does omnichannel mean? In the simplest terms, omnichannel marketing/selling allows retailers to interact with customers through various channels – websites, physical stores, social media, mobile, and more, thus creating a seamless yet coherent shopping experience regardless of where the customers are.
From a technological perspective, this means that retailers need a jewelry POS solution that is mobile, can integrate with e-commerce and it's centralized. Even buying on a channel and paying on another channel has to be seamless and painless (i.e. browsing for jewelry on a mobile app, then ordering it online and picking it up in a store all should be seamless to the customer).
#2 - Blurred lines between retailers and manufacturers
The second significant change is so new that is not yet publicized in the mainstream media – but after talking with many business owners during our PIRO demos (for our PIRO jewelry ERP platform) I see that many retailers in US are planning, or already working on opening their own manufacturing shops, while many manufacturers started to sell directly to customers.
2 minutes read: Manufacturers Selling Directly to Consumers (By Karen Waksman)
So what is the explanation for this vertical integration that is on its way in the jewelry industry? The most obvious explanation is that while manufacturers from India and China currently dominate the manufacturing of fine jewelry in the world on a volume basis, new and low-cost technologies (like computer-aided design and 3D printing) allow US companies to manufacture jewelry locally faster than ever. The reduced turnaround time of customized pieces thus helps US jewelry companies to regain some of their competitiveness – they don't compete in price but they can compete in delivery time. Although in terms of pricing it is still hard to compete with Indian or Chinese manufacturers, US market has seen a rise of stores that create collections and styles in their own workshop. Also, it is an increasing competitive advantage for US sellers if a piece is labeled as "Made in the USA" versus "Made in China".
Not surprisingly, as the jewelry manufacturers started to sell products directly to their consumers, they are also skipping wholesalers and other middlemen. I'm saying "not surprisingly" because traditionally jewelry manufacturers made only small profits comparing to a wholesaler or a retailer, therefore most of them were just waiting for the opportunity to take the margin for themselves by creating their own offline or online retail channel. With the Internet's ability to connect consumers directly, many of the smaller manufacturers started to create their own brand and are becoming quite successful in online media and advertising.
For these companies, it's a challenge to find a POS software solution that is scalable enough to handle both the manufacturing and the front-end (retail) activities. The majority of the existing jewelry POS systems lack any manufacturing capabilities, while jewelry focused ERPs lack the flexibility needed in a mixed manufacturer/retail operation, including the retail features and e-commerce integration needed for efficient multi-channel selling. They just won't work for small retail-manufacturers using online/offline marketing and sales channels.
The idea behind PIRO Retail
Understanding the changes in the industry presented above, our team started to work some time ago on a solution that can address this issue. Our core product – PIRO jewelry software – is quite advanced in handling backend processes (manufacturing, workflows, inventory, CRM) but the growing number of requests for retail components underscored the need for a new product geared for these mixed retail-manufacturers. Thus we started to work on the PIRO jewelry POS module, now called PIRO Retail.
PIRO Retail is designed to be a flexible mobile POS (Android-based) connected to the powerful PIRO features in the back-end such as dynamic pricing, real-time production tracking, and inventory management. With all these front-end and back-end connections, it behaves as a software ecosystem where different applications, functionalities, and other external software (such QuickBooks) are connected. The advantage of this is quite clear: jewelry companies with extensive activities can use solely the PIRO ecosystem instead of using different applications for different activities and working with multiple software vendors.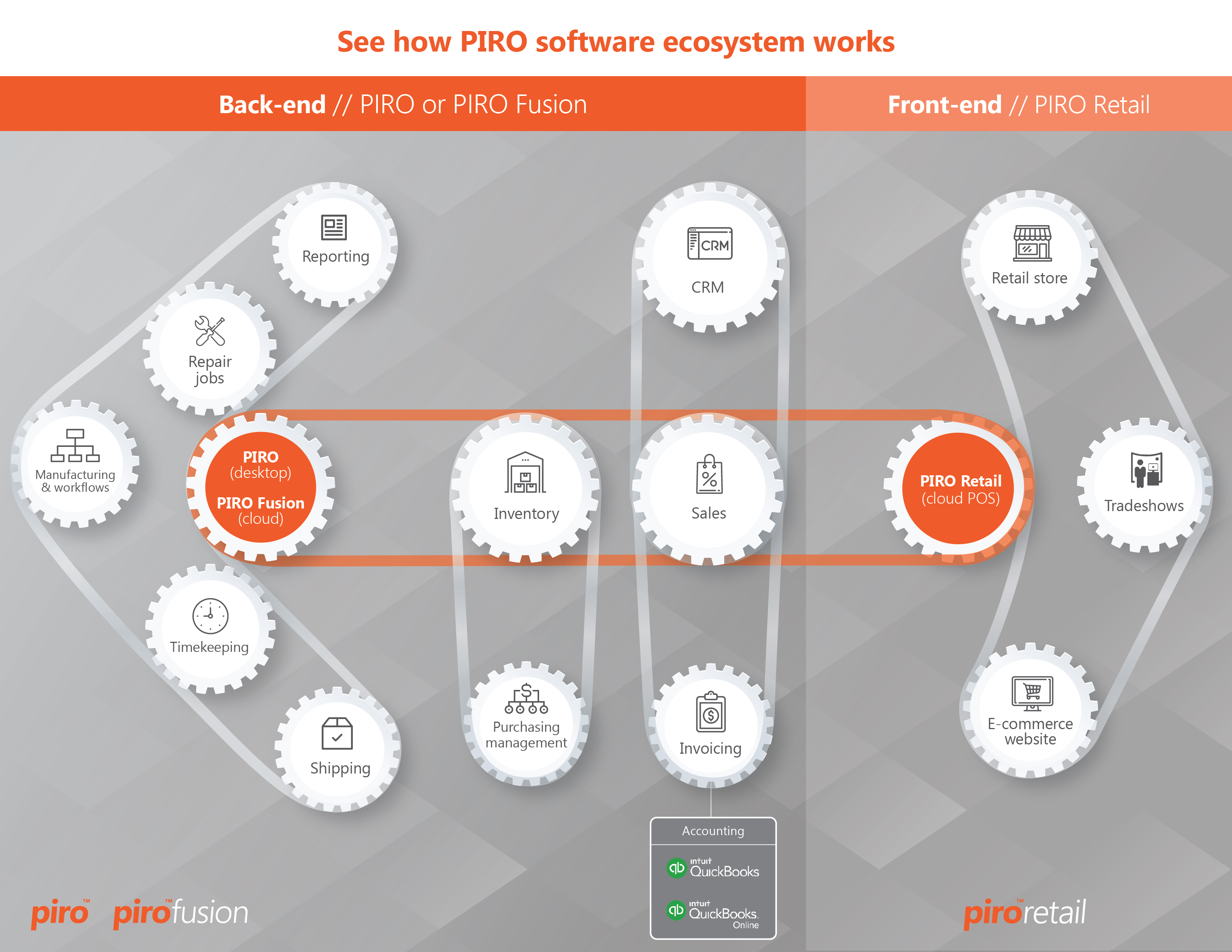 Note: PIRO Retail can also be configured as standalone retail software or in connection with the back-end ERP
We are aware that many jewelry POS systems out there might offer better retail functionalities than PIRO Retail can at this moment as the teams behind them are developing those applications for many years. But in the way the market is changing it is becoming imperative for jewelry companies to use a solution that is an all-in-one platform which can handle not only traditional retail activities but e-commerce orders and complete manufacturing tracking. PIRO Retail can be this platform.
Key features that a modern-day jewelry POS should have:
A cloud-based application so it can be accessed from anywhere
Supporting multiple sales channels (omnichannel sales)
Mobile
Allowing fast sales and credit card authorization
Allow for creating price quotes for custom jewelry, with automated pricing based on requirements
Tracking of not only repair orders but custom order manufacturing through production
Analyzing data, supporting marketing efforts
Scalability to easily upgrade as the business grows
PIRO Retail – the official launch date
We plan to announce PIRO Retail in Q1 of 2018. Many companies are waiting to see a demo of this new product - we are excited as well. I would like to bring to the attention of those who will be in New York in mid-March that our PIRO Summit event is on March 14, 2018. PIRO Summit is a one-day event in the heart of New York (Rockefeller Center) where we introduce to interested jewelry companies our product line – PIRO, PIRO Fusion, and yes, the official launch date of PIRO Retail! Save your seat by clicking here.
Hope to see you there!
Update
PIRO Retail is on the market. Know more about our jewelry point of sale system by clicking here.