The jewelry industry and jewelry software vendors are facing the same challenges
Jewelry software We just came back from the JCK show in Las Vegas. It was interesting to hear the opinions of other exhibitors regarding the future of this and other similar jewelry shows: many of them mentioned that the number of visitors is less and less each year. It is not surprising that several exhibitors started to question their presence on these shows.
What's happening with the jewelry industry? – we asked each other.
One of the potential answers is the virtual space. Yes, the online space has an increasing influence on the jewelry industry.
Fine jewelers might have never thought that the jewelry market will go online at such a rapid pace, since customers want to physically touch and visually examine what they are buying. But time has proven this thinking wrong. Jewelry buying habits are changing, the penetration of fine jewelry onto the e-commerce market is higher and higher.
We also predict a bright future for jewelry photography – one of the tools we liked at JCK is this fully-automated 360 photo sphere which comes with a software component.
For us, jewelry software vendors it's crucial to make our solution compatible with various online platforms. We are up for the challenge. 
Moving to a virtual space
Moving online is challenging to all the players in the industry, but it is worth considering building e-commerce channels as buyers are becoming more and more comfortable shopping jewelry online. Traditional retailers will face more and more struggles once their clients migrate to digital shopping.
In addition to this, sooner or later the importance of traditional jewelry tradeshows will decline and some are already predicting the rise of virtual tradeshows and online marketplaces.
It will be more impersonal. Indeed.
Tradeshows for us, i.e. jewelry software vendors were always a good place to meet prospects and clients. Software itself is already impersonal, and our clients rarely have the chance to get to know the group of talented people behind PIRO. With the decline of traditional tradeshows, chances to introduce ourselves in person will be even less. Therefore, we are thinking of extending our marketing strategy. Besides online demonstrations we might focus more on live seminars in the future, gathering the companies who are interested in PIRO jewelry software to a dedicated place.
The industry's challenges are our challenges
As the online jewelry market is growing, our clients' needs are changing as well. The tools and technology that jewelry companies need now is different than a few years back and we at PIRO always try to keep up with the trends.
Online selling for jewelers and manufacturers means
"they have to adjust their operations for online sales by changing production, inventory and fulfillment processes."(Forbes)
Many of our new clients are requesting some kind of e-commerce integration so in the last 2 years this has become a priority for us. Today our jewelry software is integrated with platforms like Shopify, WordPress, Etsy, RevCascade, VEN, etc. so orders from these e-commerce platforms are generating Sales orders or Job orders straight in PIRO. This allows companies that use PIRO to create work orders without double data entry and fulfill online orders automatically and efficiently.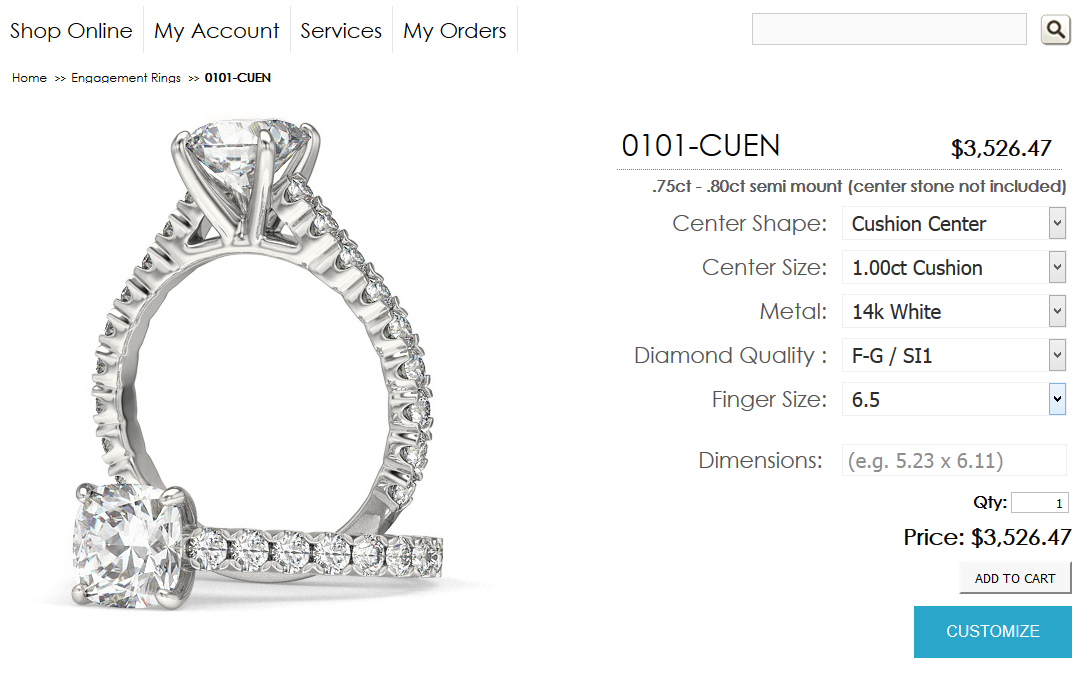 PIRO's Customer Portal is also a great tool either for B2C and B2B sales. Traditionally customers walked into a jewelry shop, discussed what they needed, but after sketching and prototyping the piece another visit was necessary to approve the job. So, orders were completed after a couple of personal meetings. In today's busy world it's harder to find time for such visits and this might be one of the reasons why the consumers change the way they do business.
The Customer Portal facilitates this process, saving valuable time for both the jewelry professionals and customers:
customers can create orders online which they can submit for a price quote
they can add notes and special requests to orders
sketches and rendered images can be presented online to the customer via PIRO
price quote or job order approvals can be done online when it's convenient for the customer (no need to schedule personal meetings)
the customer can see the progress of his/her job order in real-time (no need to call for job order status)
customers can order from a catalog that reflects the company's real-time inventory ledger (handled by PIRO)
Many of our clients are using the Customer Portal for business-to-business purposes, allowing retailers or wholesalers to log in, submit custom or catalog orders or get instant estimation from STL files.
The above mentioned tools and features make PIRO a powerful jewelry software, ready to cope with new challenges as they arise.  
Newcomer in online jewelry selling? Do it the right way.
To break into the online jewelry marketplace is not easy and it's important to act quickly before this market explodes. In the near future this market will become more dynamic and competitive, newcomers will need to face competition and come up with new ways of selling jewelry.
Technology can facilitate online order fulfillment, but to attract buyers and run a successful online jewelry store requires a different approach. You must offer something that others don't.
You must show value and be unique. Be a brand.
A good jewelry brand means that you stand out from the crowd, you have credibility and reputation, thus customers trust you when they purchase from you online. A good brand can build trust and emotional connection – similar to the situation when customers sit down and discuss with the jeweler in person.
Creating a strong brand, establishing credibility and reputation are big challenges for a newcomer. With this in mind, beside our jewelry software we offer a new service called, jewelry branding – helping jewelry companies to successfully sell online not just by providing the necessary technology, but consultancy too.
Follow this link to read more about our jewelry branding service.
Please like and share if you found this article useful! Or schedule a free online demo of PIRO jewelry software.